Wildfarmed is on a mission to change the baking industry for the better, one bag of flour at a time.
"Flour is a commodity that has been around for hundreds of years but has been devalued," Adriana Alvarez, head of business development at Wildfarmed tells British Baker in a catch-up at the London Coffee Festival. "We have come in and transformed the flour market."
The business specialises in regenerative flour and offers a route to market for crops grown in systems that prioritise soil health. It works with 35 growers in the UK and seven in France, all of whom embrace regenerative farming approaches to improve farm biodiversity and soil condition, without the use of herbicides, fungicides, or pesticides. It also offers a fully traceable supply chain, meaning end users can talk to the farmers, and is carbon negative.
Resultant crops are milled by Matthews Cotswold Flour with the range including strong bread flour, all-purpose flour, fine ground wholemeal flour, country style flour and pizza/flatbread flour.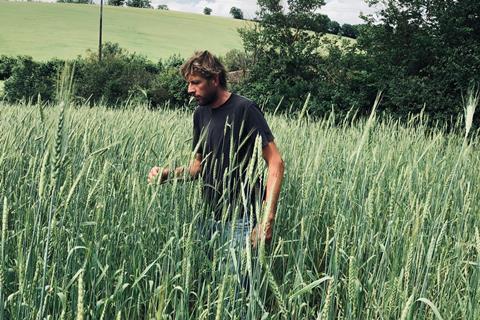 Wildfarmed was co-founded by farmer and Grammy-nominated musician Andy Cato, TV presenter George Lamb and investment expert Edd Lees in 2019. Since then, it has amassed an enthusiastic and experienced team including former M&S bakery specialist Andy Thomas (head of retail partnerships) and Peter Long, formerly supply chain manager at Caffé Nero (head of supply chain).
It has already gained traction on the artisan bakery scene and is hoping to grow its network further as it targets bakery businesses with "big purchasing power".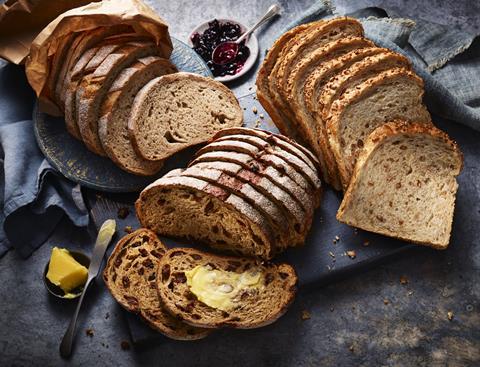 "We have got 400-plus customers all over the UK, and we've launched with a major retailer, M&S, who is really pushing for us and wants to grow with us," Alvarez says.
Sliced Wheat & Rye, Sunflower & Spelt, Fruit & Treacle, and White Bread were the four loaves which hit the shelves in M&S last year using Wildfarmed's flour.
Geary's Bakeries is the latest to come on board having partnered with Wildfarmed on a Malted Ciabattin as part of its Jason's Sourdough range.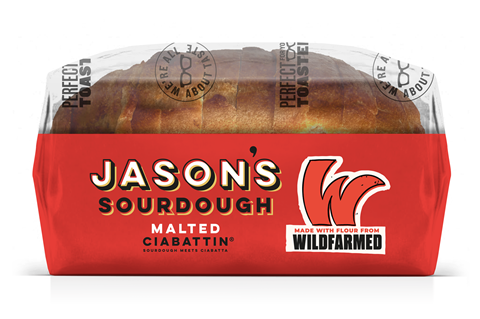 As much as Wildfarmed wants to shake things up, it's conscious that it needs to work within existing supply chains. It is also aware of the "cost barrier" as Wildfarmed flour understandably comes with a premium. That's why, Alvarez explains, it can work with bakeries to replace a proportion of the flour in a product with a minimum of 30% enough for Wildfarmed to put their name to it.
"The cost barrier will always be there," she notes. "Ultimately, whether you're a supermarket or big manufacturer your costs are going up. They're on a bit of a race to the bottom so need to find a difference – that's where we come in."
Getting its name out there is high on the list of priorities for Wildfarmed. "A lot of people in food know who we are now but we need to get the consumer engagement," explains Alvarez. "As a consumer the biggest chance you have to address the climate crisis is your food choices."
At present, Wildfarmed flour is predominantly available to the wholesale market with minimal retail presence. Changing this is among the priorities for Alvarez. "Consumers need to demand Wildfarmed," she says. "Much like they said: 'I want Oatly', it's them who will help us grow."