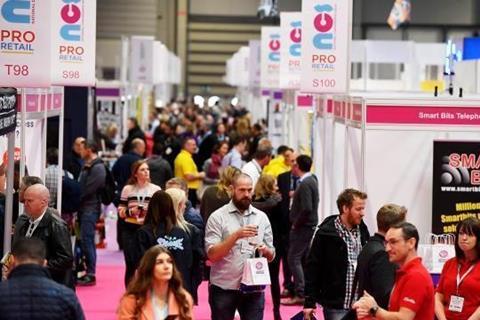 British Baker publisher William Reed Business Media is gearing up to host the UK Food & Drink Shows at the Birmingham NEC on 5-7 July 2021.
The event – which includes the Food & Drink Expo, Farm Shop & Deli Show, Ingredients Show, Foodex, National Convenience Show and The Forecourt Show – will see more than 800 exhibitors attend to showcase their products and services.
What's more, British Baker will be hosting the Britain's Best Loaf competition on Monday 5 July.
As the UK begins to emerge from lockdown, William Reed has unveiled a 10-point plan designed to reassure attendees and help it to deliver a safe and inspiring event that celebrates the best and brightest the UK food and drink has to offer.
Here are 10 reasons why exhibitors and delegates can have the confidence to attend:
1. An industry standard for event safety
William Reed has worked closely with the Association of Event Organisers in developing industry wide AllSecure Standards, designed to provide the highest levels of hygiene and safety for visitors and exhibitors. This will allow the shows to operate effectively and safely according to government and local authority guidance.
2. Wider aisles to help social distancing
Aisle sizes have been increased to at least three metres across the event as far as possible, while increasing the minimum stand depth to two metres. This allows exhibitors on smaller stands to meet with visitors within their stand space, and not dwell in gangways.
3. Smart crowd flow
All areas of the venue will comply to government guidance. These measures will ensure maximum interaction levels in the safest environment possible.
4. Sanitisation stations at every turn
Hand sanitising stations will be a fixture of the UK Food & Drink Shows, placed within easy reach throughout the show halls. Exhibitor stands will also be encouraged to have their own sanitising stations and to disinfect their respective stands and exhibits regularly throughout the event.
5. Face masks and track & trace
Until government guidance says otherwise, face coverings will be compulsory within exhibition venues so William Reed asks that you bring one with you for your visit (there will also be a limited supply at the venue). The organisers will work with the venue and local authorities to trace and contact participants at our events in line with the latest government advice.
6. A Covid-free organising team
As a responsible organiser, bubbles will be in place for William Reed staff allied to the shows and the entire team will be given a lateral flow test prior to the event. If any member should test positive, they will not be able to travel to the NEC.
7. A contactless show
Advanced registration and digital badging is being implemented which means everyone will be required to register in advance and download their digital badge or print their badge in advance of the event to reduce queueing and contact points. The press office will also be completely paperless, while the exchange of business data will also be done electronically where possible.
8. Safer stands and food sampling
Each of our exhibitors will follow a comprehensive protocol of measures covering health & safety, general venue and event measures, smarter stand design, stand hygiene and cleaning, and staff welfare. Don't worry, you'll still be able to taste the products on display. Exhibitors will be following the latest measures which includes individual sampling bags/cups/bowls.
9. Covid compliant theatres
There will be a number of sessions running throughout the show including demonstrations, masterclasses, topical seminars and debates. With safety in mind, the theatres have been designed with socially distanced seating, complying with all governmental guidelines.
10. Enhanced cleaning at the NEC
As one of the UK's premier event spaces, the NEC Birmingham is also taking extraordinary measures to ensure the safety and peace of mind of its visitors. These include a deep clean of the entire venue prior to commencing build-up and increased cleaning of high contact areas within the venue such as handrails and door handles.