A brioche loaf flavoured with matcha, white chocolate and fruit has been crowned Britain's Best Loaf 2023.
Made by Kuma-San Bakehouse from Matlock in Derbyshire, the Brioche Japonais fought off stiff competition from more than 150 loaves across seven categories – Flavoured Sourdough, Gluten Free, Innovation, International, Plain Sourdough, White, and Wholegrain.
The loaf, which took the top spot in the Innovation category, was praised by the judges for its outstanding use of ingredients, wonderful texture, and decadent white chocolate inclusions, which the judges said remained almost gooey to deliver a wonderful eating experience.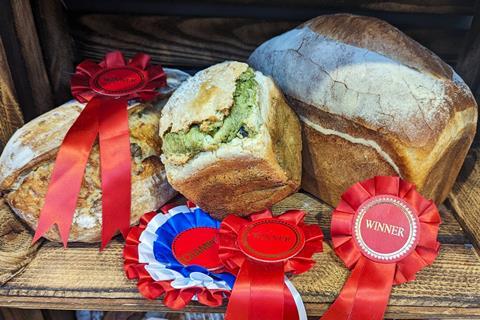 It was crowned at the Britain's Best Loaf competition, which took place at the UK Food & Drink Shows on Tuesday 25 April. The competition was sponsored by ADM Milling, Bako, Brook Food & Bakery Equipment, and Lesaffre UK.
The judging panel consisted of: Amy North, editor at British Baker; Lee Smith, owner of Poppyseed Bakery; Neil Woods, Craft Bakers Association president; Peter Doughty-Cook, founder of Peter Cooks Bread and reigning Baker of the Year; Gareth Edwards, commercial manager at ADM; Simon Lawton-Hayes, technical sales manager at Brook Food & Bakery Equipment; Claire Powell, technical baker at Bako; Andrew Layte, technical sales manager at Lesaffre; Laura Sherwood, bakery technologist at Campden BRI; Katie-Joy Woods from Jacksons Bakery; Tim Goodwin, owner and baker at The Street Bakeshop; William Leet, senior bakery technologist, David Wood Baking; and Clare Barton, owner and head baker at Bakehouse 124.
British Baker editor Amy North congratulated the bakers of the winning and highly commended loaves. "We were blown away by the quality and quantity of loaves entered for the 10th Britain's Best Loaf competition," she said. "The passion, skill and innovation of the bakers really shone through, which made the judges' task of choosing winners incredibly difficult."
"I would also like to extend a huge thank you to the judges and sponsors who made the day possible. It was a delight to celebrate the best bread Britain has to offer with you all."
Here is the full list of the winning and highly commended loaves: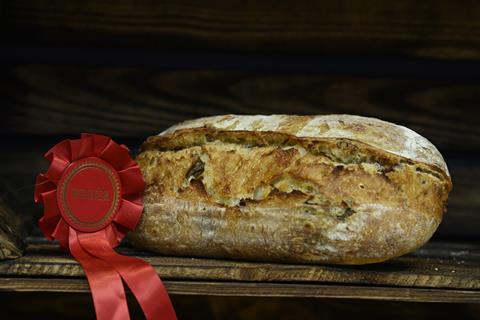 Flavoured Sourdough
Winner: Cheddar, Wild Garlic & Walnut Sourdough, Blackbirds Micro Bakery
This naturally leavened loaf contains freshly foraged wild garlic, Cheddar cheese and toasted walnuts. It's made with organic white wheat flour over a three-day period.
The judges described the flavour and aroma of the loaf as "superb", noting the excellent distribution of inclusions throughout. It had a "strong yet well-balanced flavour", according to one judge.
Highly Commended: Dark Chocolate Malt with Orange Sourdough, Lovingly Artisan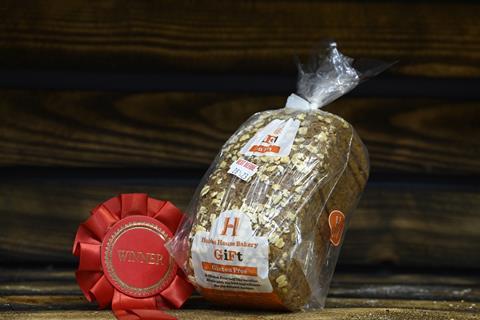 Gluten Free
Winner: Gift Loaf, Hobbs House Bakery
The judges were impressed by the quality and flavour of this little loaf, praising it for its crumb structure and clever use of ingredients. This is exactly what Hobbs House Bakery was hoping to achieve as it said the Gift Loaf was 'uncompromising in its ingredients, flavour and texture'.
Ingredients include sorghum flour, teff flour, oats, sunflower seeds, potato starch, chia seeds, linseed, psyllium husk, baking powder, extra virgin olive oil, black treacle, and chickpea flour.
Highly Commended: Gluten-free Artisan Loaf, Two Magpies Bakery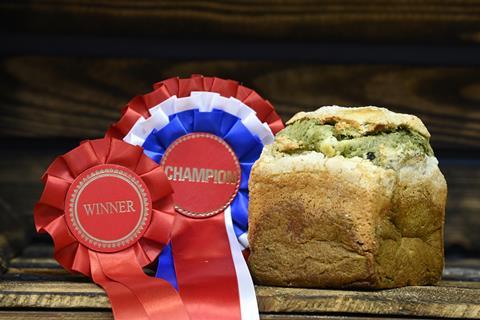 Innovation
Winner: Brioche Japanois, Kuma-San Bakehouse
"In all the years I've been judging, I haven't seen anything like this before." That is what industry veteran and Craft Bakers Association president Neil Woods had to say about the Brioche Japanois, which secured the category win for Innovation and was also named Britain's Best Loaf 2023.
The vibrant green brioche loaf gets its colour from matcha green tea, which is mixed into the dough. The subtle flavour is complemented by dried fruits and white chocolate to produce what Kuma-San Bakehouse describes as a 'special teatime loaf'. The soft loaf is topped with crispy macaron, adding some crunch and sweetness.
The judging panel were impressed by the innovative use of ingredients to create a unique looking and tasting loaf, with bursts of sweetness delivered by dried fruits and mixed peel combined with the creaminess of white chocolate.
Highly Commended: Breadcrumb Infinity Sourdough, Bread Source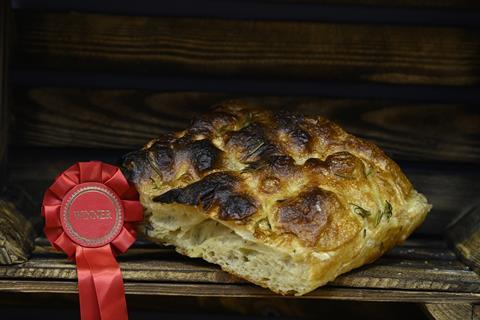 International
Winner: Rosemary & Sea Salt Focaccia, Masa Bakery
This judging panel was "blown away" by this focaccia, which secured the trophy for the new International category. The use of tried and tested flavours coupled with excellent gluten development and structure was also noted among the loaf's award-winning properties.
Made by Masa Bakery in Macclesfield, the high hydration yeasted focaccia sees a white flour-based dough fermented over 24 hours before being topped with rosemary, olive oil and sea salt. This created a soft interior yet crispy exterior with a deep flavour both inside and out.
Highly Commended: Baguette, Harvey & Co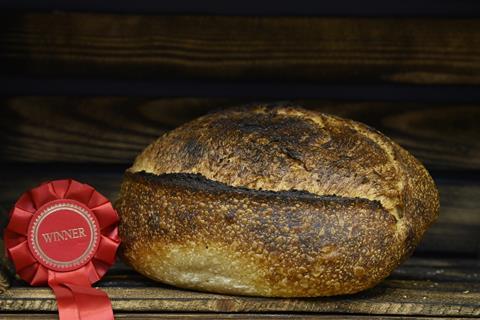 Plain Sourdough
Winner: Country Sourdough, Masa Bakery
Masa Bakery also wowed the judges of the Plain Sourdough category with its well-balanced country style loaf. It's made with a combination of Marriages Manitoba flour, Yorkshire Millers Organic Stoneground White and Yorkshire Millers Organic Stoneground Wholemeal flour. The bakery said this allows the sourdough to have a "lovely nuttiness" from the English flour coupled while the high protein Canadian flour, bringing structure and strength to the dough.
The sourdough was praised for its open texture, strong bake, good ear, and lovely caramelisation on top by the judges.
Highly Commended: Charlecote Special, Corner Cottage Bakery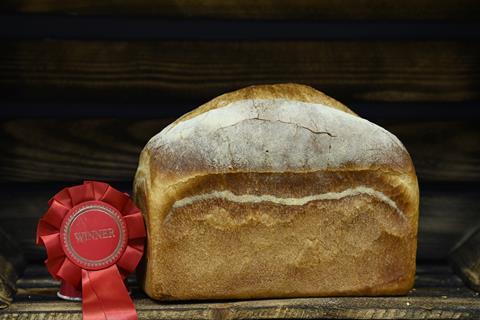 White
Winner: White Farmhouse Loaf, Stir Bakery
This white yeasted tin loaf is made with wheat and einkorn flour at Stir Bakery in Cambridge. This "soft and fluffy" bread won over the judges thanks to its beautiful looks and "amazing aroma", with one judge saying it had "all of the qualities you'd expect from a lovely white loaf".
Highly Commended: Welsh Cob, Joe's Bakery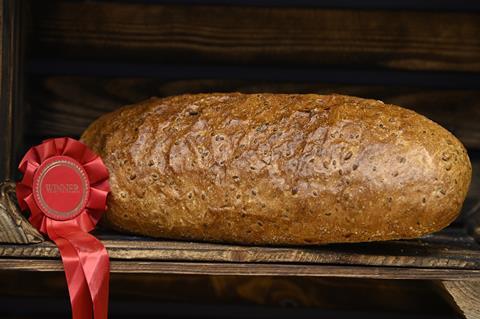 Wholegrain
Winner: Multiseed, Flourish Craft Bakery
A "delightful" flavour, open texture, and good distribution of seeds contributed to Flourish Craft Bakery's success in the Wholegrain category this year.
The Multiseed bread sees linseeds, golden linseeds, poppy seeds and sunflower seeds to the bakery's ever-popular ancient dough, creating a "light, super tasty, moist loaf packed full of nutty flavour".
Highly Commended: Sprouted Spelt & Grains, Bread Source