Last summer, M&S released a series of videos highlighting the production and provenance of its Collection Sourdough range, which is produced by Wrexham-based Jones Village Bakery.
That M&S felt its shoppers would be interested in such level of detail shows just how important sourdough has become to Britain's supermarkets.
While interest in sourdough has been growing for years, driven by local artisan bakeries and the food pages of Sunday newspapers supplements, the pandemic brought an explosion in demand.
"During lockdown, people had the time to craft their own sourdough, nurture their own starters and develop a taste for real sourdough," says Cristian Buluggiu, head of grocery at Gail's and Bertinet Bakery owner Bread Holdings. "Once normality kicked back in, people haven't had the time to make their own but their appreciation for the flavour, health benefit and wholesome nature of sourdough carried over."
The majority of sourdough breads found on supermarket shelves are made to traditional long-fermentation methods with natural ingredients
The result has been an increased focus on authentic sourdough products in supermarket wrapped bread aisles and on the counters of in-store bakeries.
Citing Circana data for the 12 months to 12 August 2023, Buluggiu states that sourdough is the fastest-growing part of the ISB market, up 9% in volume.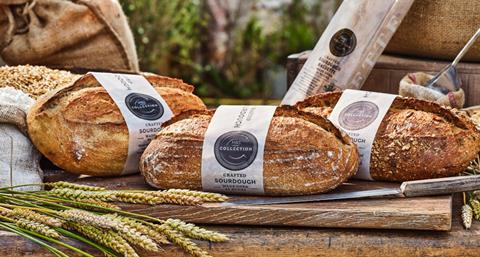 Sebastien Guibert, commercial director for the UK & Ireland at the Pandriks Group, explains that supermarkets have invested heavily in developing quality authentic sourdough bread ranges in recent years.
"The majority of sourdough breads found on supermarket shelves are made to traditional long-fermentation methods with natural ingredients and are free of commercial yeast or additives," he says.
In-store activity
In no small part, this growth has been driven by retailers raising the profile of sourdough.
Aside from the aforementioned adverts for its Collection range, M&S has sought to put its sourdough lines front and centre in some of its stores in prominent promotional space.
"These stands are clearly signposted and storytelling information is included on fermentation time, type of cereal and flavour/texture," explains Ben Ledger, bakery marketing manager at Puratos UK. "Other supermarkets have taken a similar approach, setting up clearly-defined displays that are separate from other in-store bakery products."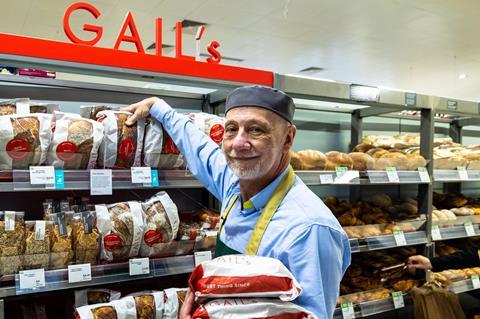 Among these is Waitrose, which has extended its partnership with Gail's to launch branded fixtures in 64 stores following a trial in three sites at the end of last year. The retailer is also doubling the range of Gail's sourdough loaves and other baked goods it stocks.
"Partnering with Waitrose earlier this year to launch a Gail's-branded fixture goes in the direction of making premium breads stand out more on fixture, improve availability and communicating more effectively with the shopper," says Buluggiu, adding that sales have been growing at high double-digit rates since the program was completed.
Barry Dawber, sales and marketing director at Geary's Bakeries, adds that there have been "significant improvements in display and execution" in in-store bakeries recently.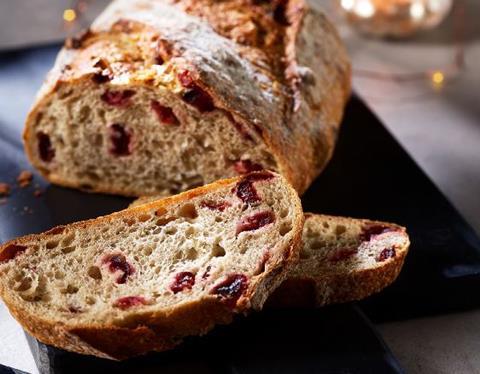 Alongside the higher profile has come a strong and steady pipeline of NPD. Asda, for example, recently launched an Extra Special Olive Sourdough Bloomer and has also rolled out a sourdough loaf as part of its Christmas range. It also rolled out an Extra Special Seeded Sourdough Boule as part of a bakery range reset last year. The loaf if made with a 22-year-old aged Yorkshire sourdough starter before being slowly fermented to deliver a 'unique flavour and open texture'.
What shoppers want from a loaf
When considering new product development, it is vital to consider what the shopper is looking for from a sourdough loaf – and suppliers have undertaken plenty of research in this area.
A study by Pandriks Group determined that taste was the main reason that 44% of respondents bought sourdough.
But that need not be the sour and tangy flavour traditionally associated with sourdough, according to Puratos, which reports that milder, fermented styles have the widest appeal. The company's consumer research found that toasted and malty notes came out on top, with 19% choosing this flavour profile, but fermented (18%), creamy (17%) fruity (16%), sour and tangy (15%), and sour and toasted (15%) also won favour with consumers.
"Suppliers can help bakers to bolster their portfolios by offering innovative ingredients and valuable consumer insights," explains Ledger. "This allows manufacturers to make informed decisions on how to target different demographics most effectively."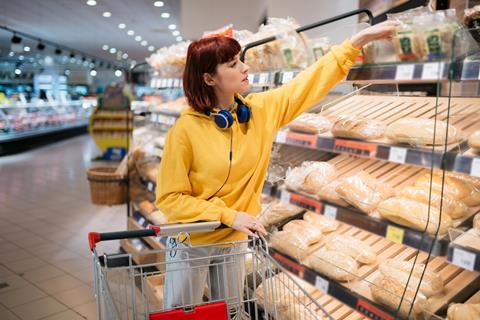 Lantmännen Unibake found that the key things shoppers look for in a sourdough loaf are a medium brown and crusty appearance, distinctive sourdough flavour, 400g size and being as 'natural and artisan as possible'.
The business has also identified three sub-sections of consumers all with a different reasons for buying sourdough:
Heavy sourdough purchasers who enjoy sourdough regularly. Authenticity is important to them and, while they want to see innovation and on-trend alternatives, the basics of the loaf should always be strong
Occasional sourdough buyers who need to know how to use the product for more occasions. Lantmännen says this is an opportunity to tell consumers that sourdough is not just for eggs on weekend mornings but also works well with soups and sandwiches for lunch and dinner
Speciality bread buyers who haven't yet tried sourdough. Authenticity is key here, according to Lantmännen but so is offer a variety of sourdough with different toppings and fillings.
"Also, educate on the potential health benefits of sourdough," says Lantmännen Unibake marketing manager Samantha Winsor. "It's an added selling point that not many other bakery goods have, but awareness is low. Sourdough is easier to digest vs other bread and causes less bloating, which is especially appealing to those who struggle with these aspects when enjoying other bread types."
Growing the sourdough category
Buluggiu at Bread Holdings says ISB has come a long way in terms of quantity and quality of sourdough offering, but there is still room to improve category penetration and awareness.
"Sales statistics show an increasingly positive attitude towards sourdough among the UK public," he explains. "However, category penetration and awareness in relation to the audience who consumes bread on a daily basis are still relatively low.
Echoing Winsor, Buluggiu says the health benefits associated with natural fermentation are yet not fully understood by the majority of sourdough shoppers.
"In short, there is a huge growth potential in this category, but consumer education needs to be a key component of the communication strategy going forward to justify the premium positioning of sourdough vs the rest of the market."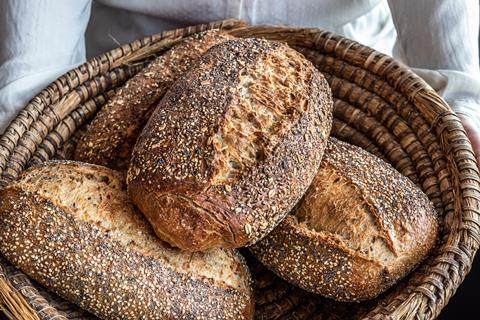 Justifying that premium positioning is especially important during a cost-of-living crisis.
"Sourdough is now a daily staple for many homes across the country," says Winsor. "It might cost more than a standard white loaf, but its discernible health benefits, and perceived superior taste and quality, means that consumers are willing to pay the extra."
She adds that many shoppers will rather spend on a sourdough loaf than a standard loaf of bread, and that retailers shouldn't be afraid to upsell.
Some retailers are looking to reduce the entry point for shoppers, however.
"Given the current economic climate and cost of living crisis, price parity is becoming more of a priority," says Ledger. "Making sourdough products more accessible, affordable, and competitive with other bread types by breaking down the cost barrier is a main aim."
Wrapped sourdough loaves
Packaged breads increasingly have a role to play in this, with own-label and branded half-loaves offered for around £2.
Among these are Jason's Sourdough The Great White half boule, which is one of the most popular products produced by Geary's Bakeries and is sold in retailers including Tesco and Sainsbury's. The bakery has recently launched a Wholemeal Ciabattin loaf that it describes as having "hit the ground running".
"It is created with the whole grain to make it naturally high in fibre, creating an unbeatable flavour and dark crumb texture," says Dawber at Geary's. "The product is made using a wholemeal sour culture and there is currently nothing like it available in supermarkets – a true wholemeal sourdough."
And the Jason's brand has this month expanded into the bake-at-home category, saying it has found a gap in the market for a premium, authentic sourdough loaf in a shape and size not currently available in the part-baked category.
Source: Geary's Bakeries
Puratos points out that retailers and suppliers need to be aware of the different approach shoppers take to the packaged bread aisle compared with in-store bakeries.
On the pre-packed aisle, purchases tend to be auto-repeated, with consumers deciding what bread or product they will buy before entering the supermarket, found Puratos. In contrast, shoppers want to be 'wowed' by what they can see and smell at an ISB, with an experience more like that of visiting an artisanal bakery.
"With a steady stream of ready buyers, the packaged-bread aisle focuses more on eye-catching visual packaging and familiar branding," says Ledger. "As consumers have less visibility of the product itself, packaging format, colour, information, and storytelling plays a much more crucial role in the consumer purchase decision."
It is also important to reduce confusion among consumers over what qualifies as a genuine sourdough.
"With brands like Jason's becoming increasingly accessible and available, consumers have the option to select a real sourdough at an affordable price," says Dawber. "We hope that our consistent quality can establish trust, assuring customers that they can expect the same exceptional sourdough every time they choose our product."
Bertinet Bakery launched a range of wrapped tin-shaped sliced sourdough a few years ago with the aim of making make sourdough approachable for shoppers of traditional sliced yeasted breads.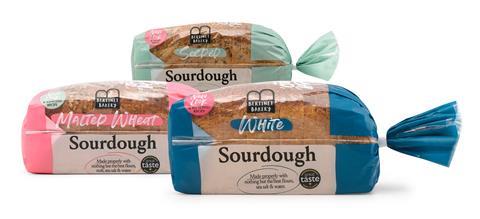 The bakery has welcomed the introduction of the UK Baking Industry Code of Practice for the Labelling of Sourdough Bread and Rolls, which was published in February by the Association of Bakery Ingredient Manufacturers (Abim).
"Until recently the term 'sourdough' has been bandied about too liberally – and has been tainted by its use in breads that haven't fully undergone the authentic fermentation process, and have been chemically enhanced with yeast or preservatives," says Buluggiu at Bertinet Bakery owner Bread Holdings.
"We are proud to be leading the charge to preserve the authenticity of sourdough – and now major industry players are coming to us for advice. This is a trend that's here to stay."
Introducing La Collection, the new luxury brand that elevates bread to a whole new level of style and sophistication.
Our bread is not just a staple, it's a statement. It takes over 30 hours to craft our bread using only a wild yeast starter, the finest ingredients and stonebaked for a delicious crust. Each one is a work of art that you will be proud to serve to your customers.
So why settle for ordinary bread when you can have La Collection? The haute couture of bread.