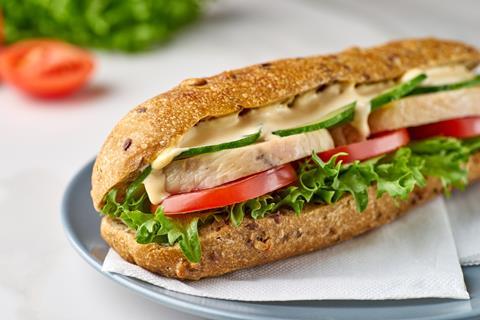 As far as sandwich fillings go, it's certainly humble but the classic chicken sarnie has emerged as Britain's most popular.
The discovery was made after meal kit company Hello Fresh analysed search interest from Google, Instagram posts and Tik Tok views.
Chicken was found to be the most treasured sandwich, ranking in first place with more than two billion hits, followed by a breakfast sarnie with 135 million online searches, and egg which came in third with 101m (see full list below).
Other classic ingredients to make the top five included ham, which placed fourth, followed by cheese. Fancy fillings didn't score so favourably, with the avocado sandwich languishing in 18th place with 1.8m hits. Notably, 65% of the top sandwiches were meat-based.
The findings were released as part of British Sandwich Week, which runs from 16 to 22 May. The event celebrates the lunchtime favourite and the contribution the industry behind it makes to the economy.
However, the market has faced several challenges during the pandemic. Jim Winship, director of the British Sandwich & Food to Go Association, believes it could take another 12 months to get back to pre-Covid levels.
Here's the full top 20 list of the nation's favourite sandwiches:
Chicken
Breakfast
Egg
Ham
Cheese
Club
Grilled cheese
Ham & cheese
Pulled pork
Steak
Cuban
Bacon
Turkey
Pastrami
BLT
McChicken
Tuna
Avocado
Bombay
Reuben