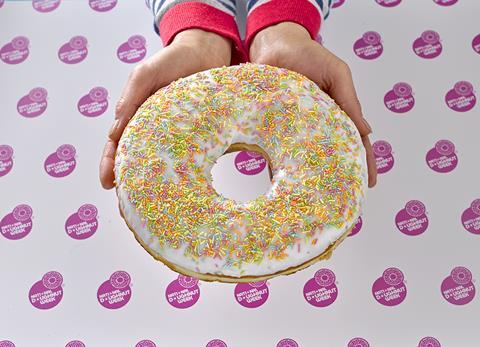 The countdown to National Doughnut Week is underway with bakers, cafés , bistros and delis registering their support and participation in the event.
Sponsored by CSM Ingredients, the weeklong event runs from 7 to 15 May 2022 and sees businesses donate a portion of their doughnut sales to charity The Children's Trust.
This year they're hoping to see 'all new doughnut creations' whipped up for the occasion alongside more traditional ring and filled treats.
"The 7th-15th May 2022 will be a very special time throughout the UK so we are encouraging everyone that has signed up to really let their creativity flow and create a brand new type of doughnut," said Cristiana Ballarini, CSM Ingredients marketing director pastry mixes.
Businesses can sign up via the National Doughnut Week website after which they will be sent a promotional pack including NDW cocktail sticks and greaseproof paper to help them promote the week and raise funds for the charity.
"We are encouraging bakers, cafés and businesses to sign up as soon as they can to enable them to join in the fun and help us raise much needed funds for The Children's Trust. Every penny raised goes towards helping the children being treated there," added Ballarini.
National Doughnut Week was created in 1992 by Christopher Freeman, co-owner of Dunns Bakery. Over the past three decades it has raised more than £1m for charitable causes with half of that being donated to The Children's Trust. 2021 was a record-breaking year for the event raising more than £40,000 for the charity.
"After a record-breaking event last year, The Children's Trust is very proud to be benefiting from National Doughnut Week once again," added Katie Roberts, head of volunteer fundraising at The Children's Trust. "With only eight weeks to go, we're really excited to work with so many fabulous bakeries and cafes around the country. Your participation in National Doughnut Week will ensure that our support is there for even more children who have been affected by brain injury or neurodisability."