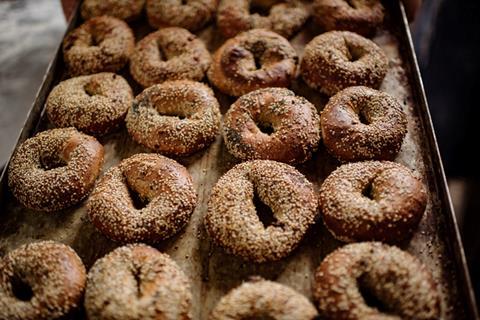 Edinburgh-based Bross Bagels has launched its first crowdfunding campaign to support the opening of its new production site in Portobello.
The site will be situated across the road from its flagship store and will help the business to keep up with consumer demand in store, as well as grow wholesale and online trade.
It will eventually provide a retail offering, with plans for seating, a restaurant and beer garden, said the firm.
Bross Bagels has six shops in Portobello, Bruntsfield, Stockbridge, West End, Leith and Waverly. Its bagels are produced in-house to its own Montreal inspired recipe.
The bagel business is offering consumers the chance to become a shareholder. With two levels of partnership, they can join the 'Bross Poss' by donating £100 or become a shareholder for £1,000. There are a limited number of buy ins.
"We are excited at the prospect of finding shareholders who can help us take Bross Bagels to the next level while participating in a high level of innuendo," said Larah Bross, owner of Bross Bagels.
Depending on which level is chosen, consumers will receive bagel vouchers for up to four years, exclusive invites, guided bakery tours and see their name on the Share Holders Wall of Fame.
Those who donate £1,000 will receive a complete refund after four years.
The crowdfunding page is available via the Bross Bagels website.