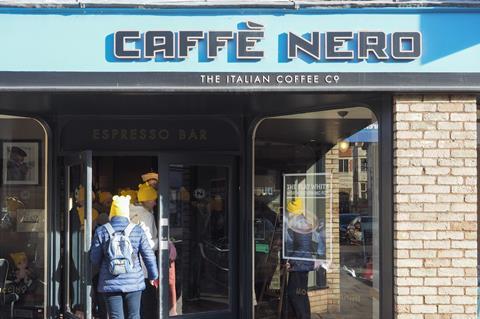 Caffè Nero has completed a refinancing of its debt after entering into a new agreement with Carlyle, HSBC and Santander, the coffee chain has announced.
As a result of the deal, EG Group is no longer a holder of any of The Caffè Nero Group's debt, the company said.
It was also revealed that the six-year loan of approximately £330m also has additional facilities of £85m available for growth opportunities, while majority ownership of the group remains with Gerry Ford, founder and group CEO, alongside his family and friends.
According to the company the new loan arrangement has reduced its debt exposure by around 15%.
"This is a great platform for us to grow our business, including opening up new stores, investing in digital channels, developing our coffee at home programme and building our brand in international territories," said Ford.
The group currently employs more than 5,600 people in the UK and has approximately 7,700 individuals working for its four brands – Caffè Nero, Coffee #1, Harris + Hole and Aroma – across 10 territories.
During June to November 2021 the group's sales were up 61%, with EBITDA for the same period recorded at £29.4m, it said. Like-for-like sales at the end of November 2021 were tracking at 90% of levels recorded for the 2019 financial year, the group added.
"It's great to have our family business returning to its successful pre-Covid levels," Ford said. "We were a strong business before Covid-19 and now having weathered the pandemic and paid back our emergency banking loans over the last 21 months, we have shown incredible resilience and I believe we will come out of these challenging times even stronger than we were before.
"I now look forward to taking the Caffè Nero brand to new heights as we force ahead with our new partners," Ford added.