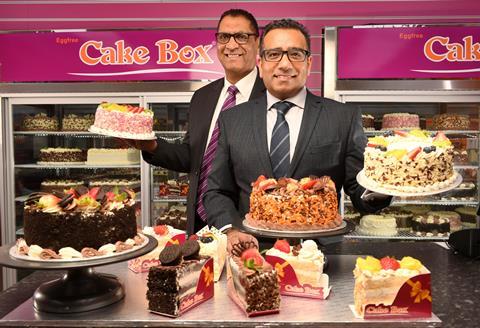 Sales and pre-tax profit at egg-free cake specialist Cake Box have dipped in the first half of the year, but online sales are flying.
Revenue fell 2% to £8.6m while pre-tax profit declined 4% to £1.7m for the six months to 30 September 2020, Cake Box reported in its unaudited interim results published today (23 November). The declines are a result of all its stores being closed during the first lockdown in March.
Excluding the six weeks of closures sees group revenue was up 30% compared to the equivalent 20 weeks in 2019. Franchisee turnover was also up 23% to £17.1m during this period.
Online sales have also increased by 51% year on year after Cake Box ventured into home delivery with the help of Uber Eats, Just Eat and Deliveroo. They're now worth £4m.
"We have shown considerable resilience during an unprecedented half year period and have emerged a stronger business for it," said CEO Sukh Chamdal.
"This is demonstrated by the strength of our trading momentum since reopening the business, with our franchisee like-for-like sales up by 12.1%, including a 51% increase in online franchisee sales, six new franchise stores opened and a record number of new store applications. This gives us confidence that the momentum in our national rollout will return to pre-Covid levels."
He added that with its "strong balance sheet and unique proposition", Cake Box remains confident of making continued progress in the second half.
As of 20 November, all the group's franchise stores remained open, except for many shopping centre kiosks.
Notably, sales growth has been seen in H2 with franchisee like for like sales up 12.7% in October and 2.0% for the first two weeks of November following the imposition of a second national lockdown.
In addition, five new stores have opened since the period end, with 'encouraging' initial trading including record first week sales in Staines.
Strategic progress
Cake Box's gross margin also improved to 48.4%, driven by a higher proportion of sponge sales where the gross margin is 70% and a lower number of new stores where the gross margin is 25%.
The business is also on track to open a new warehouse and distribution facility in the second half of the year. It will be Cake Box's third such site, with sponge production capability that will enable it to continue to reduce distribution costs and provide a back up to the facilities in Enfield and Bradford.
During the H1 period, Cake Box repaid £156k in money for furloughing employees who were unable to work as a result of the immediate impact of Covid-19. It added that it did not plan to make any claims under the Government's Job Retention Bonus.