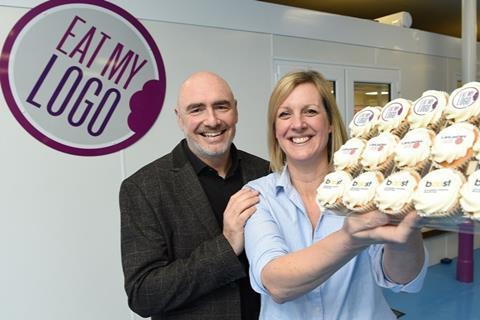 Chorley-based specialist bakery Eat My Logo has revealed plans to sell its branded baked goods direct to the trade, hospitality and catering sectors after growing its turnover by half and increasing its output.
It comes after the cake manufacturer relocated to a new 9,500 sq ft facility at Yarrow Mill following mentoring advice from Boost, Lancashire's Business Growth Hub.
Eat My Logo was initially founded in 2014 by Ruth Poar as a sideline to her celebration cake company after a customer requested that their business logo appeared on the cakes.
The firm makes bespoke creations and biscuits for bakeries and UK-based large-scale food manufacturers but had to move premises four times in its first five years to expand production due to rapid growth in demand.
Poar, who runs the company with her husband Andy, contacted the Growth Hub for advice in 2019 after recognising they needed a wider strategic view of the business.
Led by Lancashire County Council and the Lancashire LEP (Local Enterprise Partnership), the Hub is supported by funding from Lancashire County Council, the European Regional Development Fund (ERDF) and the Department of Business, Energy and Industrial Strategy.
The fully-funded growth mentoring programme matches applicants with a successful businessperson who provides support.
Business director Stephen Turner, who had experienced similar rapid growth through his own company, Group 55, was assigned to the couple and advised them on how they could expand through more proactive online marketing. He also helped Eat My Logo relocate to the new facility at Yarrow Mill.
"Despite the challenges of working through the pandemic, it was still a great decision to move into the large bakery," said Ruth Poar, who during this time pivoted the business to offer a greater range of sweet treats and biscuits which could be delivered to companies' staff by post. "The business is now back on track as the economy lifts out of lockdown."
Eat My Logo recorded a turnover of £850,000 in 2019 and achieved a record year in 2021 with temporary staff brought in to meet demand.
The business has continued to grow with an expected turnover £1.25m in 2022 and a team of 20. There are now plans to expand overseas.
"As a result of building a fantastic business, Ruth and Andy were going through challenging growth pains," Turner, said. "Together we scoped out the merits of scaling up and the risks of choosing not to. Thankfully, Ruth and Andy made the right decisions, increased their risk exposure and it paid off – as we knew it would."
Nikki Hesford, managing director of The Small Business Academy, which delivers the Boost Growth Mentoring programme, added: "Lots of Lancashire businesses have successfully innovated their products or routes to market during the pandemic and Eat My Logo is an example of a business which has managed to develop its online offering, with support from Boost's Growth Mentoring Programme, which has led to strong growth."