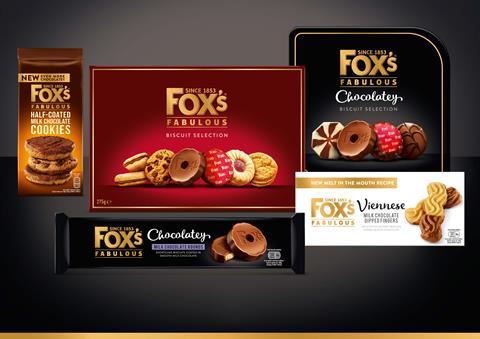 Italian confectionery firm Ferrero has bought part of Fox's Biscuits from 2 Sisters Food Group for £246m.
Under the deal, which is expected to be formally completed on 31 October 2020, the Ferrero-related company will acquire Fox's biscuit manufacturing sites at Batley and Kirkham which primarily produce biscuits sold under the Fox's brand. A third site in Uttoxeter, which produces own label biscuits for major retailers, will be retained by 2 Sisters.
Brands in the Fox's Biscuits portfolio include Rocky Bars, Party Rings, Crunch Creams, Crinkle Creams, Chocolatey and Viennese. It also produces own label biscuits and selection boxes for retailers.
Over the past 12 months, Fox's has generated approximately £157m in sales.
"The Ferrero-related company acquired Fox's as we believe there is significant scope to grow the business, building on its history in the British biscuits' market and leading position in every segment of the biscuits' category. Through this acquisition, and our two previous acquisitions of Biscuits Delacre and Kelsen Group, we expect to increase our relevance in the rich and fine biscuits category," said a statement from a Ferrero-related company.

"Fox's Biscuits has always been an attractive brand and as one of only two major independent biscuit makers in the UK, it is a prized asset in this market," said Ranjit Singh, president of Boparan Holdings Ltd, the holding company of 2 Sisters Food Group.
"We have listened to many interested parties over the years, but we have always been clear that Fox's would only be sold to the right new home, at the right time and for the right value. This sale represents another significant deal for us, underlining our commitment to our business turnaround."
Boparan CEO Ronald Kers added that the sale was in line with its strategy as it builds on "two years of strong turnaround momentum".
"We believe the sale to Ferrero is not only beneficial for 2 Sisters Food Group, but it means a positive future for the Fox's brand with an owner who has a compatible culture and a global reputation for high-quality branded chocolate and biscuit products," Kers said.