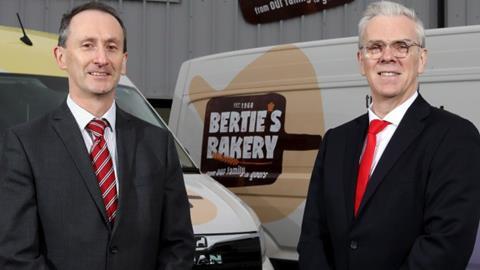 Brian McErlain, who was previously managing director of Genesis Crafty, has launched a new bakery company.
Called Bertie's Bakery and based just outside Magherafelt, where Genesis Crafty is located, the new firm is supplying baked goods to stores across Northern Ireland.
Following a £1m investment, the new business is operating from a 15,000sq ft site and producing freshly baked products, including bread, rolls, morning goods and cakes. All are hand-crafted and hand-finished.
McErlain was previously managing director of Genesis Crafty, which was founded by his parents in 1968 and had originally been called McErlain's bakery. Genesis Crafty was sold in a pre-pack deal in 2018 to the boss of Tayto Group.
Bertie's Bakery has been funded through private equity and has capacity to become a £15m business, McErlain told British Baker.
He has refurbed an existing premises for the factory, which he described as being fitted out to "a very high spec". The business aims to achieve BRC accreditation soon.
McErlain opened Bertie's despite the challenge of Covid-19 after realising it would have an important part to play in meeting the surge in demand for fresh food products.
"It's early days and the conditions have been challenging, but initial customer and retailer response to our freshness and quality has exceeded our expectations."
McErlain explained the new venture was named after his mother, Roberta.
"Her mantra was 'don't sell anything you wouldn't love to eat yourself' and it is that core value which is driving this new venture," he said. "We have sourced the very best flours, oils, seeds and grains to produce traditional breads, cakes and snacks and new interpretations of old favourites, such as our wheaten with honey and yogurt, topped with flaked almonds."
Henderson Retail signed up to be the company's first customer, with an exclusive deal to supply 10 company-owned Spar stores and a Eurospar operating in the north west. This has since risen to 23 stores throughout Northern Ireland including some independently owned outlets.
"It is core to our business to maximise local sourcing and support local agri-food businesses," said Henderson Group fresh foods director Neal Kelly
"Brian's extensive knowledge of the bakery sector combined with his commitment to quality, value and innovation are a perfect fit with Henderson's. We look forward to further developing our partnership with the business."