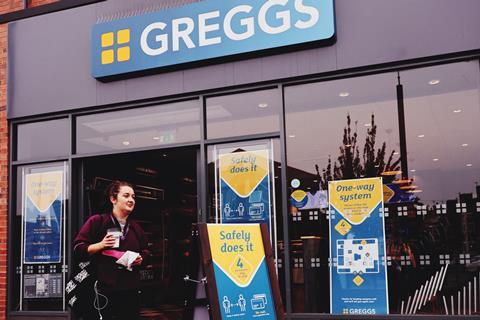 Greggs is to cut 820 jobs from its business as a result of the ongoing coronavirus pandemic, as CEO Roger Whiteside warns "there can be no room for complacency".
The redundancies, which were proposed in its September trading update, come after a consultation process with union and employee representatives.
"Covid trading conditions have forced this action onto our business and we are all very saddened by the need to part company with around 820 friends and colleagues, many of whom have worked with us for many years," Whiteside said in a post on Greggs' employee information site.
However, he added that several counter proposals had been accepted with some shop employees agreeing to a reduction in their contract hours to minimise the need for further redundancies.
"At lockdown levels of sales, even after all of the mitigating action that we have taken, Greggs will not be profitable as a business and there can be no room for complacency," Whiteside added.
However, the firm said no shops would be closed as a result.
Prior to the pandemic, Greggs was in strong growth describing 2019 as an "exceptional financial year" for the business.
The outbreak and consequent lockdowns impacted its sales and also disrupted supply chains, with the temporary closure of its Leeds distribution centre in August, and the halt of production at its Newcastle factory in September owing to staff members testing positive for the virus.
"Greggs has shown its resilience and ability to adapt to even these most extreme conditions. We are determined to emerge from this crisis stronger than ever, and have exciting plans to invest in Next Generation Greggs with new shops, new digital ways for customers to shop with us, a more efficient supply chain and first-class central support," Whiteside added.
Christmas will be unlike any other, he noted as he laid out Greggs' priorities to help it react to new customer footfall patterns and shopping environment. These include:
Concentrating on its Christmas offering including favourites such as the Festive Bake, Vegan-friendly Sweet Mince Pies, and our Pigs Under Blankets Baguette
Continuing to roll out its delivery service via Just Eat to more shops nationwide
Further developing its click and collect offer
Rewarding customers for their loyalty via our updated Greggs Rewards scheme, and
Opening up new shops at pace in areas where we can provide easy access for customers, especially those who are in cars. These openings have also helped it to mitigate job losses in some areas.
Pret is also among the high street chains to suffer as a result of the pandemic with more than 3,000 jobs lost from its UK shops and support centres and 30 shops closing permanently.