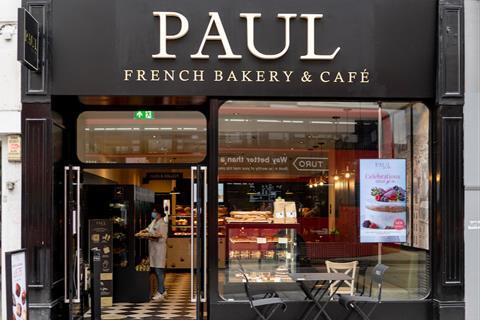 Sales at Paul UK fell by more than half in 2020 compared with 2019, revealing the extent of disruption caused by Covid-19 for the bakery and café chain.
The company's latest annual report shows total revenue for the 12 months up to 31 December 2020 was £19.4m, representing a net sales decline of 52.9% on the previous year. The loss for the year after taxation amounted to £5,496,282, compared with just £494,491 in 2019.
The report acknowledges the significant effect of Covid-19 on Paul UK in 2020. When the government announced the first lockdown on 23 March 2020, all of the company's 37 stores were closed. Four stores were reopened two weeks later and then a further tranche of two to four stores were opened every few weeks after that, with the estate selling bread and other products to support their local communities in London and Oxford.
Paul UK's sales were especially impacted in the City, West End and central London stores as offices closed and tourist numbers declined, the company said.
However, in an interview with British Baker in 2021, Paul UK CEO Mark Hilton emphasised the importance of the company continuing to operate during the pandemic because of the brand's positioning as a neighbourhood bakery. "We were there to support our neighbourhoods and the communities that we operate in," Hilton said.
During 2020 the company decided not to continue the lease on the Paul store in High Holborn, but a new shop in Putney was opening in August 2020. Another opening in West Hampstead followed in January 2021 and Hilton told British Baker that the business is looking to expand its geographical footprint outside of London by actively seeking franchise partners.
In the annual report the Paul UK board acknowledged that the business trades in a "fiercely competitive sector" and that the principal risks and uncertainties it faces "continue to be the ongoing cost pressures which are consistently monitored and addressed".
The directors added that the company "offers a unique quality product" and that its store locations "play a vital role in the success of the business".