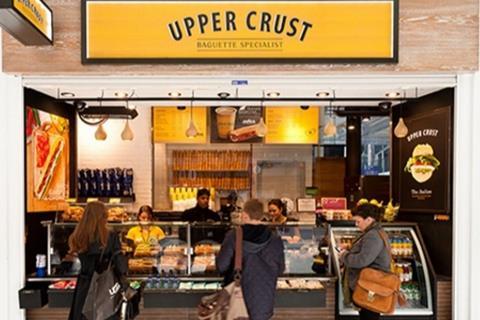 SSP insists it delivered a 'resilient performance in a very challenging market' in 2021, despite sales dropping more than 40% year on year.
The travel food and drink operator, which owns brands such as Upper Crust and Ritazza, recorded revenue of £834.2m for the 12 months up to 30 September 2021. The figure was 41.8% down on sales of £1,433.1m for 2020 and 70.1% lower than 2019's pre-pandemic total.
The group reported a pre-tax loss of £411.2m for FY21, compared with a deficit of £425.8m for the previous year. SSP's operating loss for 2021 was £309.2m, an improvement on 2020's £363.9m, and net debt was down to £1,480.4m, from £2,040.6m in 2020.
The group, which specialises in train station and airport outlets, was hit hard by lockdowns and Covid-19 restrictions but reported a steady increase in passenger numbers over the second half of its financial year. As a result, sales strengthened from a 'very low level' to reach 53% of 2019's figure by the end of H2.
SSP observed that sales trends have continued to improve during the new financial year, and revenues in the first nine weeks are currently averaging approximately 66% of 2019 levels. The group admitted there was uncertainly in the immediate outlook over the winter months – particularly over the potential impact of the Omicron variant on travel restrictions – but added that it remained confident in its ability to manage any near-term volatility.
"Though still in the recovery phase, SSP has made strong progress, particularly during the second half of the year," said Jonathan Davies, deputy CEO and CFO. "The group has continued to reopen units in line with passenger demand, with 72% of units currently open.
"Over the past year, we've continued to reinvest in and strengthen important areas of the business which we believe will underpin our long-term growth, including our customer offer, our people strategy and our technology platforms, and we've made real progress in further embedding sustainability into our business," Davies added.
In addition to its annual results, SSP announced the appointments of Apurvi Sheth and Kelly Kuhn as independent non-executive directors of the company with effect from 1 January 2022. Apurvi will be a member of the remuneration committee and Kelly a member of the audit committee. Both will serve as members of the nomination committee.
Sheth has executive experience across food and beverage companies such as Nestlé, Coca-Cola and PepsiCo, and most recently as managing director of Diageo in south-east Asia. Kuhn has business experience from her previous executive roles within the travel sector and was most recently executive vice president and chief customer officer of CWT (formerly Carlson Wagonlit Travel).
Last month SSP announced Greencore CEO Patrick Coveney will replace current CEO Simon Smith as of 31 March 2022.