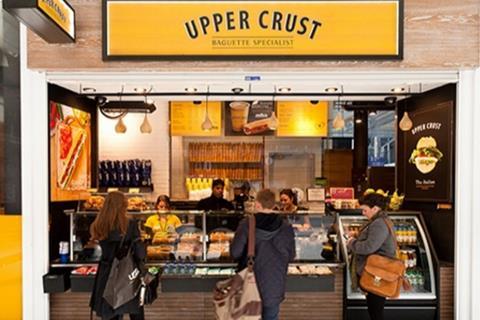 SSP's trading in the UK has strengthened since its financial year end despite sales dropping 53.7% for 2021, according to the travel food and drink operator.
In its results for the 12 months up to 30 September 2021, the multinational group – which owns railway and airport food-to-go brands including Upper Crust and Ritazza – reported UK revenue of £190m, compared with £410.1m for the previous year.
The company's underlying operating loss in the UK for 2021 was £52.2m – an 81.9% increase on 2020's deficit of £28.7m – while the previous year's reported operating loss of £39m increased 47.2% to £57.4m.
The group's UK operations were hit hard by lockdown restrictions and quarantine measures during the first half of its 2021 financial year. However, the operator reported a steady improvement in trading in the third quarter as the UK government's roadmap out of lockdown began to take effect, with sales improving to approximately 19% of 2019 levels for Q3 as a whole.
The trend continued through the fourth quarter with revenue strengthening to 43% of 2019 levels and showing rapid improvement once restrictions were removed in late July.
SSP's annual report stated that UK trading had continued to strengthen since year end, with sales in December 2021 running at approximately 63% of 2019 levels, and 61% of 2020's figures.
Worldwide, the group's revenue dropped by 41.8% in 2021, with sales of £834.2m compared with £1,433.1m for 2020. The overall operating loss for the year was £309.2m – a slight improvement on 2020's deficit of £363.9m.
In November 2021 it was announced that Greencore CEO Patrick Coveney would take over from Simon Smith as CEO of SSP as of 31 March 2022.
Commenting on the company's latest results, the outgoing CEO said the business had made "good progress" despite the scale of the challenges posed by Covid-19.
"Sales recovered significantly in the second half of the year led by domestic and leisure travel. SSP colleagues have shown incredible resilience and flexibility and really lived our values during this crisis and I would like to take this opportunity to thank everyone for their unwavering support," Smith added.