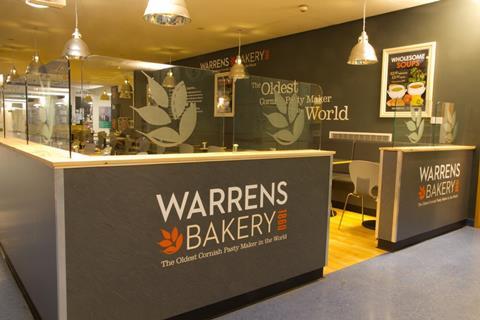 Warrens Bakery has completed the Company Voluntary Arrangement (CVA) that kept the business going after it ran into trouble three years ago.
The Cornwall-headquartered business first agreed a CVA – a process that enables a company to negotiate the repayment of debt rather than filing for liquidation or insolvency – with its suppliers and landlords back in December 2019. The CVA followed the announcement of a major restructure that included shop and factory closures as well as redundancies.
A CVA4 – notice of termination or full implementation of voluntary arrangement – has now been filed with Companies House showing the firm has fully complied with the terms of its CVA approved on 23 December 2019. Preferential creditors were paid in full, with claims totalling £66,529. Unsecured creditors, meanwhile, were paid at a rate of 23.56p to the pound, with claims totalling £560,873.
Earlier this year, Warrens filed accounts for the year to 30 June 2021 that showed the company's operating profit to be £471,000 – a significant improvement on the £2.7m loss the previous year. As such, the company pronounced its CVA to have been a success.
Turnover for the year was down from £12.8m to £9.6m but Warrens said this was largely due to the closure of loss-making shops and production facilities, while hospital sites also continued to be impacted due to Covid-19.
Warrens benefited from government support during the pandemic, receiving business rates grants of £171,000 and furlough payments of £885,000. The company also sold the redundant Truthwall site for £164,000 in December 2020 and the St Just site for £400,000 in April 2021.
When filing the accounts in March 2022, Warrens said sales growth of 36% had been achieved post year end, despite sales at hospital sites remaining lower due to ongoing visitor restrictions. The company has forecast EBITDA of £1.2m for its next set of annual figures.