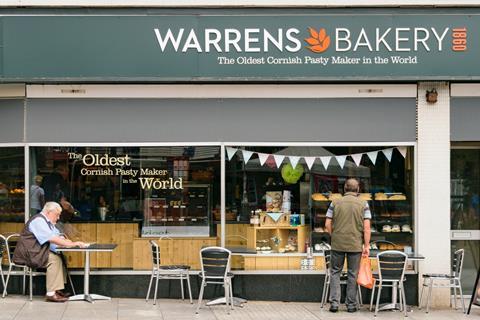 Warrens Bakery has called its Company Voluntary Agreement (CVA) a success after the business returned to profit in 2021.
Newly filed accounts on Companies House for the full year to 30 June 2021 show the firm's operating profit to be £471k – a significant improvement on the £2.7m loss the year prior.
Turnover was down year on year from £12.8m to £9.6m. However, this is due to the closure of 18 loss-making shops as well as the closure of loss-making production facilities with their related wholesale sales, it said. Hospital sites also continued to be impacted due to the pandemic.
"Given the pandemic's impact on the business and the restrictions to trade, further action was taken to negate the shortfall in trade over the traditionally buoyant summer 2020 period," it stated. "This included a series of cost saving measures as well as the company seeking variations of the Company Voluntary Arrangement which were approved by creditors in July 2020."
The business first agreed a CVA – a process which enables a company to negotiate the repayment of debt rather than filing for liquidation or insolvency – with its suppliers and landlords in December 2019. It followed the announcement of a major restructure which included shop and factory closures as well as redundancies. In July 2020 Warrens requested creditor approval to maintain payments of £5,000 a month for 12 months versus the originally proposed £24,000. It was amended again in February 2022 given the business' improved performance with a final payment of £500k made in March 2022. A final dividend payment to creditors is expected in April 2022 after which the CVA will be discharged. This will result in a write back to profit of around £1.8m.
Warrens, like others, benefited from government support during Covid receiving business rates grants of £171k and furlough payments of £885k. It sold the redundant Truthwall site for £164k in December 2020 and the St Just site for £400k in April 2021, further reducing bank borrowings.
Sales growth of 36% has been achieved post year end, it added, despite sales at hospital sites remaining lower due to ongoing visitor restrictions. As such, Warrens' EBITDA for the next financial year is forecast to be £1.2m.