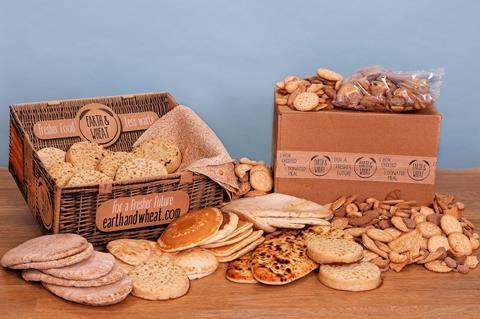 The equivalent of 100,000 meals have been donated to charity in less than a year by Earth & Wheat, according to the 'wonky' baked goods subscription service.
The donations have been made to The Felix Project, a London-based organisation that delivers surplus food to charities and schools to help them provide meals for the most vulnerable in society.
Richard Smith, deputy head of food supply at The Felix Project, said the donations had made "a huge difference" to the 900 charities and schools that it serves, as well as its own Felix's Kitchen where Earth & Wheat's flatbreads are included in meal packages every week.
"Surplus food by its nature can be very inconsistent so we really appreciate the regularity of these deliveries, which allow us to cook delicious meals for families and others in need to enjoy," said Smith.
Earth & Wheat was launched by James Eid in March 2021, aiming to reduce food waste at the point of production. The enterprise 'rescues' bread and other baked goods which would otherwise have been discarded due to its odd size or unattractive appearance. Earth & Wheat subscription boxes feature a mixed selection of 'wonky' crumpets, pancakes, tortillas, pittas, focaccias, flatbreads and naan breads.
Eid first used his access to his family business, Signature Flatbreads, to develop the subscription service but has since been onboarding independent bakeries around the UK. In November, the 20-year-old entrepreneur also launched a vegan broken biscuit box and has further plans to roll out more food ranges in 2022.
According to Eid – who is still in his final year studying business at Lancaster University – the charity donations to The Felix Project represent "a major achievement" for Earth & Wheat. "I am extremely proud of my team, and thankful for the continued support of our customers and community," he said.
"Our customers, or 'wonky warriors' as we like to call them, have supported Earth & Wheat and enabled us to donate 100,000 meals to The Felix Project, helping to combat food waste and support our community.
"We will continue to donate to food charities to help when times are tough. The great thing is our customers benefit from fresher bread whilst participating in the fight against food waste, one of the leading contributors to climate change," Eid added.