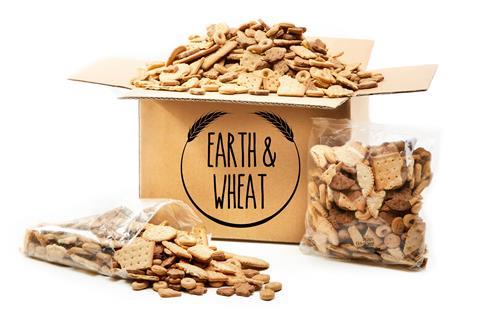 'Wonky' baked goods subscription service Earth & Wheat has expanded its range with a vegan sweet and savoury broken biscuit box.
Rolling out for World Vegan Day on 1 November, the 1.8kg box contains a mixed selection of broken cookies, gem biscuits, gingerbread, crackers, and water biscuits. Each biscuit, according to 20-year-old founder James Eid, would have been deemed "imperfect" due to a wonky shape, crumbled corner or odd pattern meaning it won't be sold through traditional channels.
"I'm very excited about the launch of our new Earth & Wheat vegan wonky broken biscuit box as we continue in our fight to reduce food waste and save the planet," Eid added.
"Around 16% of food wasted is at the point of production and our mission is to end food waste at the production stage before it even reaches the supermarket shelves. It is this invisible waste that we don't see every day that we want to stop."
Eid, a fourth-generation baker at family-owned business Signature Flatbreads, founded the business earlier this year to redistribute baked goods such as crumpets, flatbreads, tortillas, and pittas through a subscription service. Customers can sign up on a weekly, fortnightly, every three weeks or monthly. The new biscuit boxes cost £7.99 including delivery.
Earth & Wheat sold over 10,000 bread boxes in the first 12 weeks and so far, has saved more than 200 tonnes of bread from being wasted. Since then, it has been on the hunt for other businesses to partner with to help expand the service with more products.