From extra mini cheddar snacks to slightly boozy biscuits, some well-known names in the bakery sector are stepping up their NPD efforts.
Here, we look at some of the latest launches of finished goods fit for comfort eating: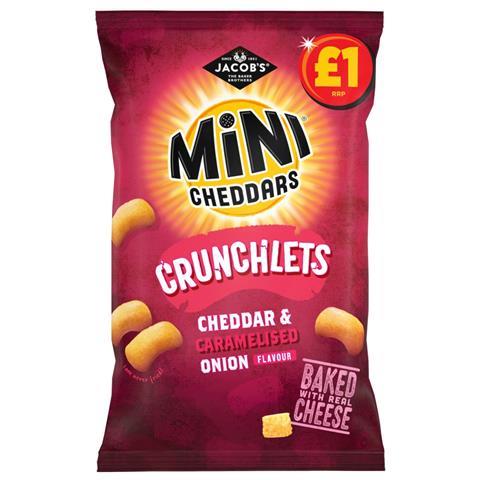 Crunchlets, Pladis
Snack specialist Pladis has reimagined its popular Jacob's Mini Cheddars to come up with a new 'lighter, crunchier' version in the form of Crunchlets.
Available in Rich & Tangy Cheddar and Cheddar & Caramelised Onion varieties, Pladis hopes the new version of the snack will 'catapult the brand into new consumption' moments.
"New formats have proven hugely popular for us, with Jacob's Mini Cheddars Sticks having secured a place in the top 20% of sharing snacks just eight weeks after launch," said Christopher Owen, marketing controller at Pladis UK&I.
"We're confident that Jacob's Mini Cheddars Crunchlets will replicate this success – particularly given that, in consumer testing, they ranked in the top percentile for purchase intent," he added.
The Crunchlets are available in 6x17g multipacks and 115g sharing bags (rsp: £1.50), across multiple grocery, wholesale, and convenience channels. They will also be launching in a 65g price-marked pack (rsp: £1), exclusive to the wholesale and convenience channels.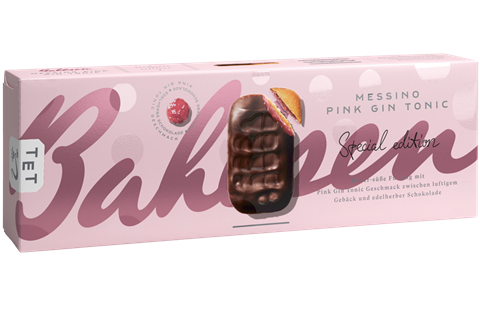 Gin & tonic biscuits, Bahlsen
Biscuit maker Bahlsen has unveiled three booze-themed, limited edition products for the seasonal market.
New for 2021 is the Messino Pink Gin & Tonic, featuring soft sponge cakes with a splash of pink gin and tonic flavoured fruit filling encased in dark chocolate. Packs of 11 biscuits (rsp: £1.49) are on sale in Waitrose, Asda, Sainsbury's and Tesco.
The firm is also bringing back Choco Leibniz Baileys which features the its signature crisp butter biscuit, set in continental milk chocolate infused with the flavour of Baileys Original Irish Cream. Packs of nine biscuits (rsp: £1.79) are launching in Tesco, Sainsbury's Waitrose, Asda, Morrisons, Akora and Co-op.
As the name suggests, the taste of the popular Christmas tipple is also a feature of the Baileys Ohne Gleichen. Meaning 'without equal' in German, the Ohne Gleichen is made up of a Baileys-infused cream filling squished between two wafers, topped with a square of milk chocolate. Packs of 12 biscuits (rsp: £1.79) are available in Waitrose, Asda and Tesco.
"The creation of the new SKUs has been informed by the ever-increasing consumer appetite for special treats within the biscuit category," said Nicola Blackmore Squires, head of marketing at Bahlsen. "The fact that these exciting innovations are infused with two of the nation's best loved alcoholic flavours make these our most grown up, luxurious biscuits yet."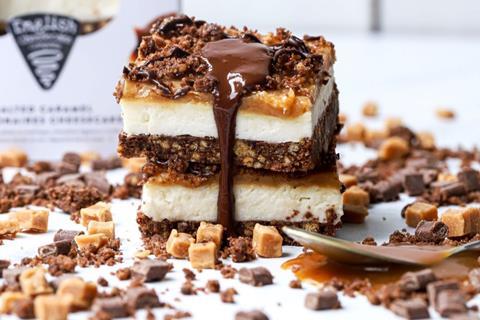 Vegan cheesecake, The English Cheesecake Company
A new Vegan Millionaire Salted Caramel Cheesecake has been launched in Waitrose courtesy of The English Cheesecake Company.
Topped with a thick layer of salted caramel, chocolate digestive crumb and a chocolate drizzle on a chocolate biscuit base, the NPD is aimed at tapping into consumer demand for 'indulgence with an on-trend, innovative flavour profile – perfect for sharing or as a treat on cosy nights in', according to the manufacturer.
The Millionaire Salted Caramel Cheesecake (rsp: £3.85) is the fourth flavour in the company's vegan range, joining Double Chocolate Cookies & Cream, Smooth Vanilla Cheesecake with Lotus Biscoff, and Deliciously Raspberry.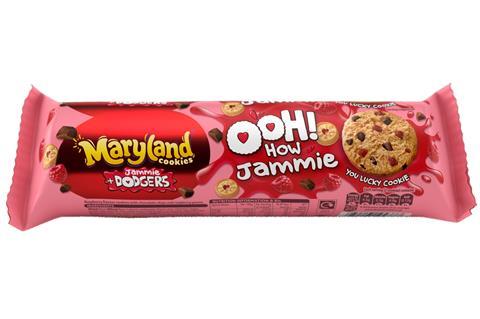 Jammie biscuits, Burton's Biscuit Co
The latest offering in Burton's Biscuit Co's Maryland Kookie Crew range is the Ooh How Jammie, a 'mashup' of Maryland and Jammie Dodger varieties.
The NPD features raspberry dough with the addition of Maryland chocolate chips and raspberry pieces. The 200g packs are launching into Asda in October as a three-month exclusive offering with an rsp of 85p, before rolling out to the wider market in 2022.
The biscuit follows previous Kookie Crew SKUs including Jaffanator, It's Mint to Be, and Hazelnutter.
Kate Needham, Burton's Biscuit Co's marketing director, said the Maryland Ooh How Jammie is "packed with the kookiness of Maryland and the cheeky mischief of Jammie Dodgers, brought together for the ultimate biscuit mash up".