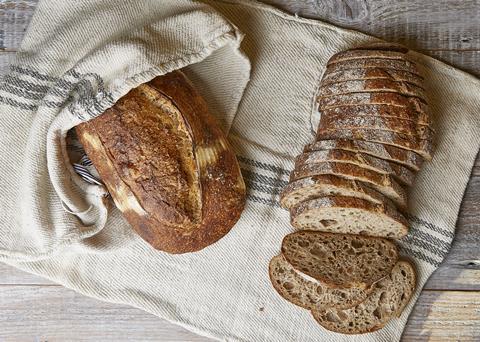 A sourdough subscription service is being rolled out across London following a successful pilot.
Called Good in Bread, the service was launched by former Warner music employee Emily Caron and sees a sourdough 'loaf of the week' delivered to subscribers. It follows a six-week trial this summer.
The French-American mum-of two, whose father runs a global industrial baking business in France, developed the idea after struggling to access what she describes as good quality sourdough during lockdown, leading her to test the idea out on friends and family.
Her creations include Nutty but Nice, a hazelnut & cranberry sourdough; The Loaf Story, a Nordic rye with sunflower seeds and rye flakes; Labour of Loaf, which features a dark woody crust; 'Eat Pray Loaf', a seeded loaf said to be loaded with Omega 3s; and the 'Hearty Loaf', made from soaked overnight oats.
The organic loaves are baked in north west London using artisan methods and weigh between 750g and 800g. The bread is handcrafted, using natural yeast or starters, and a long cold fermentation to enable the dough to rise naturally for 48 hours.
Subscribers pay £6.50 per week for one loaf or £12 for a twice-weekly delivery. The bread is either sliced to post through a standard letterbox or unsliced and delivered in a loaf-sized parcel (see below). Each package contains instructions on how to store the bread, as well as recipe ideas and suggestions on how to reduce food waste.
The loaves are delivered by bicycle across London in biodegradable cardboard and the 'freezer-friendly' slice pouches are made from 100% biodegradable plastic.
One-off loaves are also available to buy online.
"Growing up in France, I was lucky enough to have access to fresh bread every day," Caron told British Baker. "My father was religious about having fresh bread in our house at all times but on weekends, we woke up to fresh baguettes, croissants and ficelle, which was the ultimate treat."
Speaking about Good in Bread, she added: "We are ensuring that Londoners can always have fresh and yummy bread – especially at a time when we are spending more and more time at home."