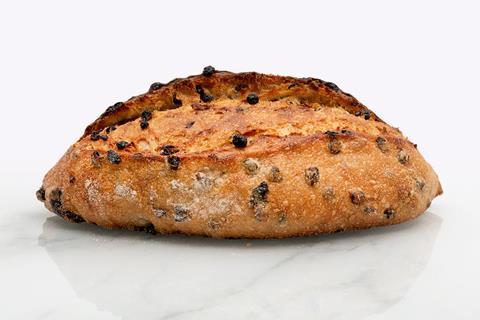 Gail's Bakery has unveiled a new sourdough collection with a focus on nutritional value.
Called A New Generation of Sourdoughs, the collection is high in nutritional value, fibre and calcium, said the firm. The range will be available in Gail's Bakery stores on 5 November.
Anomarel Ogun, a professional artisan baker, baking consultant and product developer, has been working with Gail's to design and develop the new loaves.
The loaves have taken on a new form, using ancient methods and science to adapt, it added, with extended fermentation times.
Containing 20% less gluten and carbohydrates, the collection features more than 10 loaves. These include:
Mixed Olive Sourdough: the 280g sourdough stick is made from a whole green martini, black nicoise olives and thyme leaves
Potato & Rosemary Sourdough: a cake-like 650g loaf comprising rosemary, nigella seeds, extra virgin olive oil and potatoes
San Francisco Sourdough: the starter is made of organic yoghurt and milk to encourage bacteria and flavour, according to Gail's
Currant & Sour Cherry Sourdough: this 500g fruit sourdough is made with a white flour starter, wholemeal and dark rye flour and contains plump sour cherries and currants
Plaited Challah: the 500g sweet braided loaf has a soft crumb and crust, and is topped with sesame and poppy seeds
Honey, Almond & Walnut Sourdough: this 500g white sourdough contains whole walnuts, toasted almonds and honey
Ciabatta: at 425g, this loaf has a crispy crust with a light open crumb. It is made with a combination of bakers' yeast and levain
Gluten-free Sourdough: its gluten-free variant is made with wild yeast, brown teff, brown rice and chickpea flour.
"We've reviewed our formulas and introduced a larger diversity of whole grains, fibres, plants, seeds, nuts, fruits and herbs into each one. We've added more water to our doughs – higher hydration in our formulas means our breads now have a softer crumb which stays fresher for longer. Most of our sourdoughs are now shaped into bloomers which yield a better bake and a more consistent slice, perfect for sandwiches or toast," said the firm.
The Gluten-Free Sourdough was crowned champion in the gluten-free category at the Britain's Best Loaf competition last month.
British Baker caught up with its creator Roy Levy to find out how the loaf was developed and what the win means for the business.