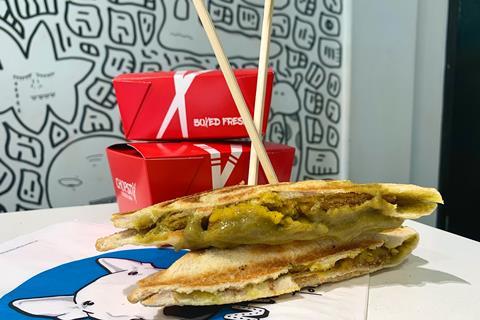 Manchester-based Frankie's Toasties has teamed up with Chopstix to create a katsu and noodle toastie.
Available for one week only, the new toastie will celebrate National Katsu Day on 27 September.
The toastie comprises signature Chopstix breaded chicken katsu curry and fresh noodles between two slices of white Kingsmill toasted bread.
Vegetarian customers can try the breaded pumpkin version, smothered in katsu sauce.
The katsu noodle toastie will be available for an rsp of £4.50 at Frankie's Toasties.
Chopstix, a Pan-Asian noodle bar, notes katsu is one of its most popular dishes. It is currently developing a bottled version of the sauce.
Frankie's Toasties, which dubbed itself 'the UK's first toastie restaurant' was founded in Manchester in 2018. With almost forty different toastie combinations, diners can choose sweet or savoury fillings from the original classic cheese, bloody Mary or super noodles, to S'mores, Hong Kong toast or apples & custard.
The toastie restaurant is open seven days a week from 8am-5pm on Monday-Saturday and 9am-5pm on Sundays.