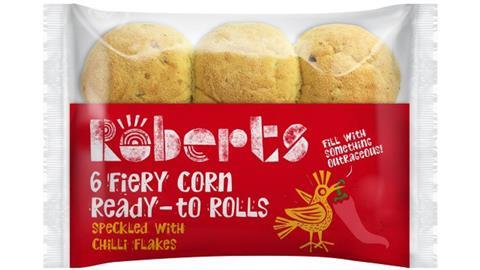 Roberts Bakery has unveiled a radical relaunch, featuring new branding and NPD including gin & tonic-flavoured buns and wrapped bloomer loaves.
Described by the 130-year-old business as a "seismic shift", it is designed to overcome decline in the wrapped bread category, where price cuts have been driving down value.
"Customers have told us they want innovation and differentiation from a branded supplier who will add value to the category," Roberts managing director Stuart Spencer-Calnan told British Baker. "Listening to customers has been the catalyst for what we are doing."
Based in Northwich, Cheshire, and with another bakery in Ilkeston, Derbyshire, the business employs 900 people and supplies supermarkets and convenience stores across the north west, Wales and central regions.
Roberts hopes the move will help consumers and customers think differently about bakery, and encourage people to try something different.
"While we will be respecting the past, this is about the future, challenging the category and its complacency," said Spencer-Calnan.
New products and traditional sliced loaves are rolling out now to Asda, Morrisons and Co-op stores.
The line-up includes the Fun Buns range of four-packs of buns in flavours including gin & tonic; marmalade; and sultana & currant with cinnamon & nutmeg.
The business, which said there was a "big opportunity" in the rolls and buns market, is also launching six-packs of Fiery Corn Ready-to Rolls with hot chilli flakes, and Moroccan Corn Ready-to Rolls made with cardamom, cumin and turmeric.
Roberts is aiming to challenge the traditional shape of wrapped loaves with a four-strong line-up of 600g bloomers loaves with a recommended price of £1.19.
The launches followed investment in Roberts' innovation centre and staff, said Spencer-Calnan: "We had very strong bakers in the organisation already and we have supplemented them with new team members from different product categories."
The NPD features Roberts' modern new branding, while the company's core sliced bread range will carry transitional branding with the old and new logos for eight weeks, supported with in-store, digital, out-of-home and PR activity as part of a £1m marketing spend. Following the transition activity, a campaign will support the NPD and brand using more online TV and further out-of-home and PR activity.
Challenger brands
Spencer-Calnan, who has worked for businesses including Warburtons and became Roberts' MD last September, said the bakery had looked at challenger brands in categories such as breakfast cereal, crisps and premium puddings.
"This activity is about embracing the new, bringing some real excitement and fun to bakery," he added.
Spencer-Calnan said the relaunch was not targeted at a particular age group. "We are looking to bring younger consumers to the category, but it is more about people who are attracted to food rather than a particular demographic profile; People who might not currently be in bakery in a major way."
He added the relaunch was a "stepping stone" to the future of the business – and, potentially, national distribution.
"Our immediate job is to be a challenger brand – and the desire to grow nationally is part of being a challenger brand."