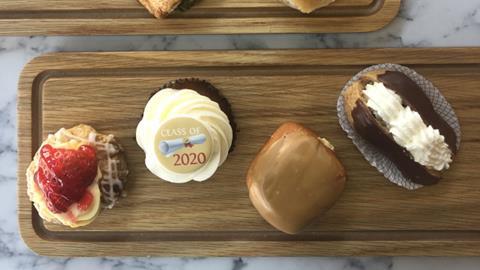 Scottish bakery Fisher & Donaldson has unveiled a celebration buffet platter for university and school graduates during the Covid-19 pandemic.
With university and school graduations cancelled because of the coronavirus pandemic, graduating university students, year six (P6) and sixth-year pupils are missing out celebrating their academic achievements, said the firm.
This led to the creation of the Class of 2020 buffet platter, targeted at pupils, students and families at home.
The platter (rsp: £8.99) comprises filled rolls, savoury pastries and a selection of mini cakes, including the bakery's popular fudge doughnut and a cupcake with a 'Class of 2020' edible scroll.
"We can all remember how special that last day of school before summer was, and after years of hard work at university, a graduation ceremony is a really important part of moving forward into the working world," said Chloe Milne, marketing manager at Fisher & Donaldson.
The buffet platters are available for delivery in St Andrews, Cupar, Dundee and the surrounding villages, and can also be collected from the bakery's St Andrews or Cupar branches.
"We recognised how sorely missed these occasions would be by pupils and students in our local area and decided to make something extra special, so they could celebrate in style at home," added Milne.
"We hope these treats will be enjoyed and help make an occasion out of what could have been a disappointing day."