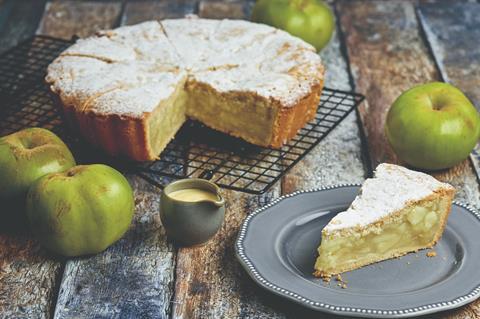 Pies, cakes, and tartlets feature among the sweet bakery NPD making waves this summer.
From British and French pudding favourites to high fibre flapjacks and creative crumble cakes, there is something for everyone. Below, we round up some of the latest treats to be unveiled: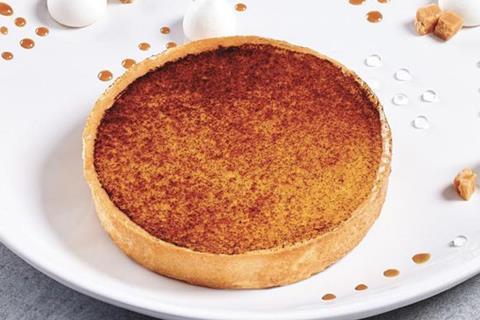 Crème Brulee Tartlette, Brioche Pasquier
France is famed for its exquisite desserts and now Brioche Pasquier has combined two of the country's classics – the créme brulée and the tartelette – to produce a Crème Brulée Tartelette.
Set inside a crisp pastry shell, the custard is said to deliver a 'creamy, crunchy, burnt sugar flavour' and is hand finished by pâtissiers. The frozen tart can be popped in the microwave for ten seconds and is sold in individually wrapped packs of ten.
"This is one of those moments when you say, why haven't we done this before," said Matthew Grenter, foodservice sales manager, Brioche Pasquier. "The créme brulée is a classic French dessert, perhaps the most popular of all, and using it as a filling for a tart is such a great idea."
The NPD has been released under the brand's Symphonie Pasquier range, which includes macarons, petits fours and full-sized tarts.
Crumble cake, Ginger Bakers
Crumbles are synonymous with apples and blackberries, but Ginger Bakers has gone one step further with an Apricot, Pistachio & Lemon Thyme Crumble Cake.
The dessert is made with an apricot and pistachio sponge infused with lemon thyme syrup, topped with a sweet apricot jam and finished with a crumble topping.
"Lemon thyme's sweet citrus aroma is complemented by the more minty and floral notes you get from regular thyme, but that's where the similarity ends as lemon thyme's subtle lemony essence takes over and really comes into its own," the brand said.
Available as an 18-portion tray bake, the cake is priced at £30 or available from selected Ginger Bakers retailers.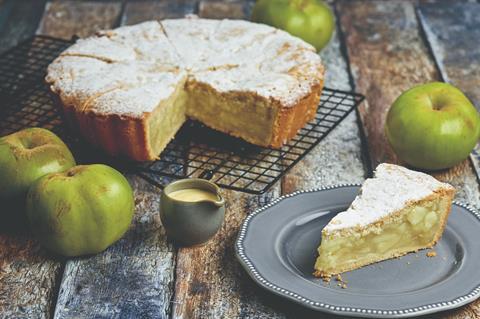 Deep-dish apple pie, Central Foods
Frozen food distributor Central Foods has launched a new-pre-portioned deep-dish apple pie.
Suitable for vegetarians, the Menuserve pud is packed with apples and encased in a shortcrust pastry. Pre-sliced for 12 people, each portion can be individually defrosted to reduce wastage and has a shelf-life thereafter for four days when chilled, the brand said.
"We are excited to have added the delicious Menuserve deep dish apple pie to our superb range of frozen desserts and puddings," Gordon Lauder, MD of Central Foods, added. "It's a versatile dessert which can be included on eat-in menus in restaurants, bars, hotels, cafés and other venues."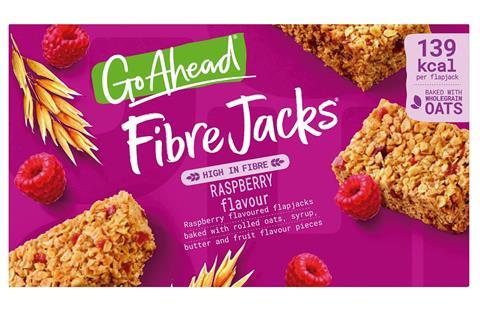 High-in-fibre flapjacks, McVitie's
McVitie's has unveiled two flapjacks in raspberry and blueberry flavours under its Go Ahead label.
The baked FibreJacks are made from wholegrain oats and added fibre and described by the brand as chunky and chewy and "a great way to give your day a little lift".
Available in Co-op, Asda and Morrisons from August and Sainsbury's now, the bars are sold in packs of four (rsp: £1.99) or individually (rsp: £0.65).