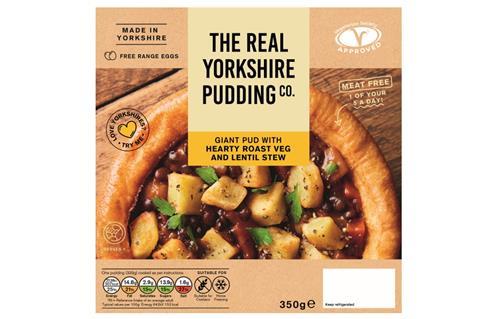 Doncaster-based The Real Yorkshire Pudding Co has launched a range of five vegetarian filled Yorkshire puddings.
The 350g giant puddings are available in Roasted Vegetable & Lentil Stew, Five Bean Chipotle Chilli, Cauliflower Curry, Vegetable Sausage & Mash, and Vegetable & Seed Bake with Vegetable Mash variants.
Approved by the Vegetarian Society, they are also gluten free and available for an rsp of £3.99 each.
The launch marks its venture into the meat-free ready meal market, said the firm, which also offers toad in the hole alongside other filled Yorkshire puddings.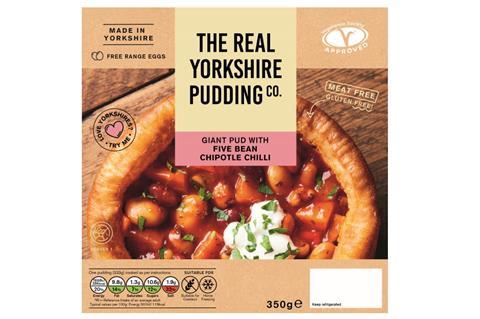 "We wanted to create a range of innovative veg-based filled meals that are relevant to today's consumer. This is a great opportunity to offer a meat-free alternative to a filled Yorkshire pudding and this is a great way for us, as a brand, to put a modern twist on a traditional British classic," said Charles Payne, managing director of The Real Yorkshire Pudding Co.
"The new range complements our existing range of delicious toad in the holes. As a business we are focussed on leading innovation within the category and expanding the meal occasions in which Yorkshire puddings are eaten, after all they are not just for Sundays."
The Real Yorkshire Pudding Co also supplies retailers with its own-label chilled Yorkshire puddings and produces over 120 million Yorkshire puddings a year.
In 2018, the company rolled out two dessert Yorkshire puddings in Rhubarb & Ginger Crumble and Toffee Apple Crumble flavours.