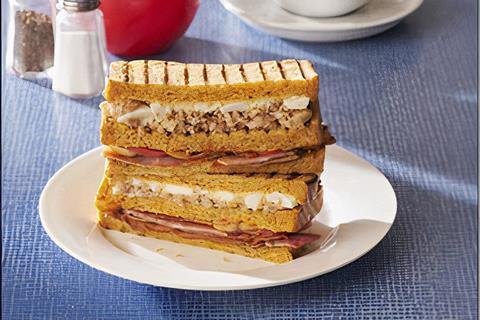 Waitrose is rolling out Heston Blumenthal's latest creation in the form of a full English sandwich, complete with baked beans and a coffee hit.
It comprises baked bean-flavoured bar-marked bread filled with crumbed sausage, smoked bacon, free-range sliced egg, cold pressed mayonnaise, tomatoes and cannellini beans in sauce – all finished off with a coffee-flavoured mushroom ketchup.
The sandwich is available now from Waitrose shops and its website. It will normally be priced at £3.80, but has an introductory 25%-off offer taking it to £2.85.
"There are many reasons why some dishes become our favourites, they can be complicated masterpieces of culinary delights. But there are times when all you want is a full English. So I looked at how to satisfy that craving, any time, anywhere and I realised the solution was a sandwich," said Blumenthal.
"If you're looking for the best brunch-on-the-run, or just wondered what it might be like between two slices of bread, you're going to love this. It's even got the coffee in there."
The chef has also contributed to the retailer's Christmas range, with standout items including The Night Before Christmas Mince Pies, Sherry & Balsamic Vinegar Christmas Pudding and Tipsy Stollen.