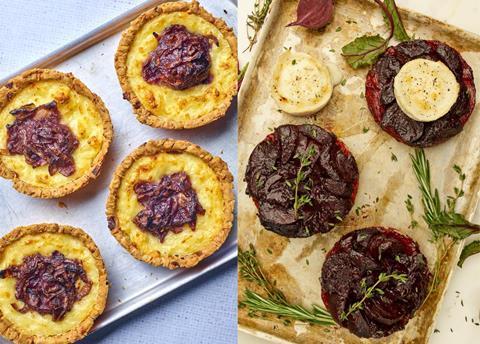 Frozen food distributor Central Foods has added two savoury tarts to its foodservice range which it says will help cater for customers with dietary requirements.
A brie and red onion tart, which is suitable for gluten-free and vegetarian diners, has been added to its Menuserve range. It comprises a gluten-free Cheddar and chive pastry filled with brie and Cheddar sauce, topped with a red onion compote.
A vegan beetroot and thyme tarte tatin has also been added to the Menuserve line-up. The tarte tatin features balsamic roasted beetroot wedges with thyme of a puff pastry base.
Both are described as premium products that suit the increasing demand in foodservice for pre-prepared options that meet various dietary requirements but which will also prove more popular generally, the company added.
"We are really pleased to launch two new tasty savoury products for foodservice and extend our growing selection of pre-prepared, frozen items that are suitable for free-from diners," said Central Foods managing director Gordon Lauder.
"The Menuserve brie and red onion tart will make it easier for food service operators to satisfy demand from their customers for delicious gluten-free, easy-to-serve menu items, while the Menuserve beetroot and thyme tarte tatin is perfect for vegan diners."
Based in Northamptonshire, Central Foods supplies hundreds of different lines into foodservice, ranging from vegetarian and free-from items, meat products, bakery items and canapés through to buffet products, desserts and puddings.