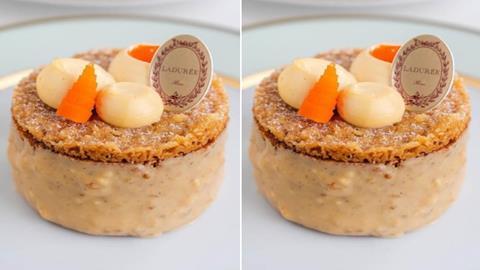 French bakery producer Ladurée has re-designed its menu for take-away with new deserts and signature dishes.
Using seasonal ingredients and fusing French, international and British flavours, the collection contains a variety of sweet and savoury lines.
The international and French offer include Classic Avocado Toast (£11), Salmon Avocado Toast with Brioche (£14), French Toast served with maple syrup (£8) and a Fleur De Soleil Macaron Gift Box (£20 for a box of seven).
Its British classics comprise a Nuage Brownie (£6.50), Carrot Cake (£6) and Cream Tea package (£20 for two) with freshly baked signature scones, strawberry jam, two macarons and a tea bag.
The Cream Tea Package is available to order every day from its newly re-opened Covent Garden and Burlington Arcade sites. The To-Go collection is available now from its Covent Garden site for pre-order, call-and-collect and via the delivery app Supper.
In the coming weeks, the To-Go products will be available via Deliveroo and UberEats.