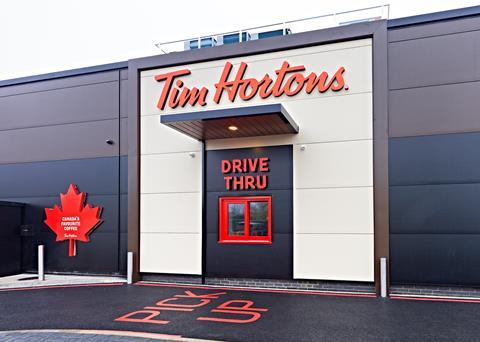 Canadian chain Tim Hortons is continuing its rapid expansion across the UK by unveiling plans for its first site in London.
The new 4,209sq ft site at Park Royal is set to be opened later this year and will offer a dine-in and drive-thru service as well as delivery options.
Drive-thru sites and high street locations are a key target for the brand as it enters its next phase of growth with plans to double its estate across the country by the end of 2023. At present, it has 51 locations across the UK with another 10 'coming soon', according to its website, including ones in Leicester, Dunstable, Plymouth, and Teesside.
"Surpassing the 50-location milestone has been a testament to the team and the hard work injected to build sustainable success since inception into the UK in 2017," said Kevin Hydes, chief commercial officer at Tim Hortons.
"Despite challenging times for the sector, our model has continued to prove its success and we are confident now is the right time to open in the capital and announce our updated growth strategy."
As part of this, Tim Hortons will continue to focus on trading across all dayparts offering consumers a selection of baked goods, such as doughnuts and pancakes, as well as breakfast muffins, bagels and toasties alongside hot and cold drinks.
"Our plan is to continue growing the Tim Hortons estate, both in London and nationwide, and along with this, we will likely trial new concepts to meet the needs of our ever-growing fanbase," he added. "We have a dedicated acquisition and construction team with us supporting our ambitious growth plan and we will be continuing to actively look for leasehold and freehold opportunities across the UK & Ireland."
Tim Hortons was among the fastest growing businesses in British Baker's Bakery Market Report 2022, opening 22 new sites during 2021. To see how it stacks up against other major players in the out of home market, download the Bakery Market Report for FREE from this link.