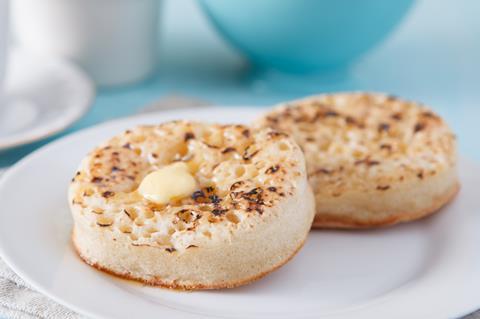 Action on Salt is calling for a compulsory salt reduction targets after a survey by the charity found what it claims to be 'unnecessary' salt levels in some of the UK's bestselling crumpets.
A total of 28 crumpets from 13 companies – nine supermarkets and four manufacturers – were analysed for their salt content per 100g and per crumpet for the study, as well as progress towards the voluntary salt reduction targets for 2017 and 2024 as laid out by Public Health England.
Average salt content per 100g was found to be 1.15g, and a total of 89% of the crumpets tested met the 2017 targets of 1.25g of salt per 100g for morning goods.
Warburtons crumpets had the highest salt content at 1.48g per 100g, and 0.81g per 55g crumpet, according to the study. Its giant crumpets, which weigh 105g, had 1.55g of salt per crumpet. Warburtons' gluten-free crumpets were also high on the list for salt content with 1.43g per 100g, followed by Kingsmill's crumpets (with 1.25g per 100g) and M&S Ultimate Crumpets (at 1.23g per 100g).
Responding to the findings, a Warburtons spokesperson said: "As a responsible family business, we care about providing our consumers with a choice of products that can be eaten as part of a balanced diet and crumpets are no exception.
"Over the years, we have reduced salt across our range by 25% and our crumpets are rated amber for salt by the government's traffic light labelling scheme. We always work hard to ensure we review our recipes while making sure we don't impact the great taste and quality our consumers expect."
Those with the lowest levels of salt per 100g included: Sainsbury's Taste the Difference Luxury Multiseed Sourdough Crumpets (0.94g per 100g), Asda Teddy Crumpets (1g per 100g) and Co-op Irresistible Buttermilk Enriched Sourdough Crumpets (1g per 100g).
Action on Salt said the UK government must mandate the new salt reduction targets as a key public health strategy to lower blood pressure and reduce the risk of strokes and heart disease.
"Like with the recent and disappointing voluntary sugar reduction progress report issued by PHE, it's a scandal that certain manufacturers have still not made any progress in reducing the salt in their products. The government must now mandate these targets to ensure a fair and level playing field," said Professor Graham MacGregor, Professor of Cardiovascular Medicine at Queen Mary University of London and chairman of Action on Salt.
Progress has been made
However, the Federation of Bakers, which represents the UK's largest baking companies, said good progress had already been made by crumpet manufacturers on salt reduction.
"The majority (90%) of crumpets on the market have met the salt reduction requirements for 2017, whilst 30% have already met the targets set for 2024," said FOB chief executive Gordon Polson.
"This is a significant industry achievement, bearing in mind some salt is needed in the production of crumpets, to ensure they offer both taste and quality. The industry will continue to work hard to meet the 2024 salt reduction targets, whilst also balancing with the importance of flavour and texture."
Salt in crumpets can come from added salt (sodium chloride) and raising agents, such as baking powder. Action on Salt said as well as reducing the amount of added salt, low salt raising agents such as potassium bicarbonate could be used, noting that over a third of the crumpets surveyed have potassium labelled in their ingredients list.
It added that this, along with the variation in salt content seen across crumpets, 'clearly demonstrates that reductions in this category are technically possible'.
"Our findings show a clear divide between the food companies that are actively trying to improve the nation's health and those that aren't. Three years on from the 2017 salt reduction targets, some companies are still failing to make meaningful reductions in salt, despite it clearly being achievable. With new targets now set for 2024, it's time they stopped dithering and started levelling up with the more responsible companies," said Sonia Pombo, nutritionist and campaign manager, Action on Salt.
The 2024 target for powder-raised morning goods – which includes crumpets, scones and English muffins – is set at an average of 1.01g of salt per 100g and a maximum of 1.19g per 100g.