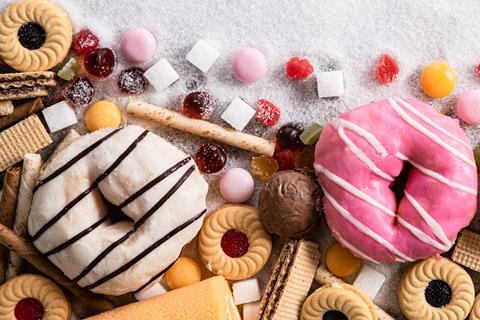 Suppliers have reduced the sugar content of cakes, biscuits and morning goods since 2015, according to new figures from Public Health England (PHE).
The average amount of sugar per 100g in biscuits sold through retailers fell 1.6% between a baseline of 2015 and 2019. Cakes, meanwhile, saw a 4.8% sugar reduction and morning goods a drop of 5.6% although the baseline for these categories was 2017, rather than 2015.
However, they remain well below the government's voluntary target of 20% reduction by 2020.
Overall, average sugar reduction across all categories stands at 3% with retailer and branded breakfast cereals, yoghurts and fromage frais recording some of the biggest falls in sales weighted average sugar – around 13% between 2015 and 2019. Sugar levels in chocolate and confectionery remain relatively unchanged but product sales have increased.
Puddings, meanwhile, recorded an increase in sugar per 100g of 2%.
Looking at the out of home market, cakes and biscuits recorded the second and third largest decreases in sugar content, respectively. Cakes saw a 6.8% reduction and biscuits a 3.9% one.
"We've continued to see some progress in reducing sugar in a number of everyday food and drink products and this shows that success is possible through reformulation," said Dr Alison Tedstone, chief nutritionist at PHE.
"Yet, overall progress remains too slow. Faster and more robust action is needed to help us consume less sugar, which will help us become healthier and lower the economic burden of obesity and preventable pressure on the NHS."
In response to the new figures, Graham MacGregor CBE, chairman of Action on Sugar and Professor of Cardiovascular Medicine, Queen Mary University of London, said it was "abundantly clear that the government's voluntary sugar reduction programme is simply not working".
"Food and drink companies that want to do the right thing are crying out for a level playing field, which can only be achieved by setting mandatory targets for calorie and sugar reduction. The soft drinks levy has shown that this approach is both best for business, and best for everyone's health, including people from more disadvantaged groups.
"It's imperative that whichever organisation takes over from Public Health England, they implement comprehensive and compulsory reformulation targets across the whole of the food and drink industry to gradually reduce the amount of sugar and excess calories in food and drink."