Determining which type of fat is best to use for baked goods is a complex decision – and even more so when sustainability is thrown into the mix.
Carbon zero and environmental goals are high on the political agenda in 2022, and consumers are increasingly conscious of ethical issues in the supply chain. So taste, quality and price are no longer the only aspects for bakers to weigh up when sourcing ingredients.
This particularly applies to oils and fats, a significant purchase for any bakery, whether it is butter, margarine, vegan alternatives, palm oil, olive oil or something else. More than many other commodities, it can be tricky to judge what is the best and most sustainable choice.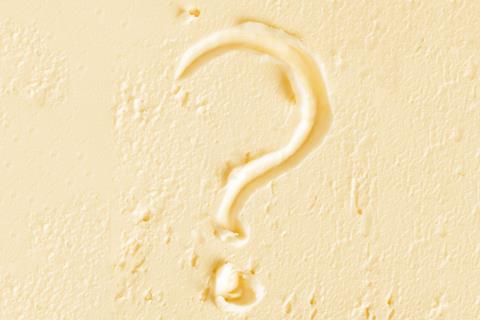 Bakery businesses also need to work out what impact of changing to more sustainable fats will have on the taste, texture and appearance of the baked goods being produced, and of course the price difference between the ingredient options.
Looking first at weighing up how the sustainability of various baking fats stack up, there are a range of factors for bakers and manufacturers to assess. Some of the key considerations include what evidence of traceability of the supply chain there is, what the environmental impact of production is, and the contribution to the local economy that production makes.
Oil and fat supply chains still vary significantly by product, and each product presents its own set of challenges to those trying to source sustainably, says Gary Lewis, National Edible Oil Distributors' Association president and head of business development: oils and fats at KTC Edibles. It's not as simple as one solution being intrinsically 'better' than another, he says.
Butter, for example, relies on the dairy industry, which is associated with a range of sustainability issues, including greenhouse gas emissions. But within dairy, there's a big difference between the sustainability credentials of grass-fed, organic domestic dairy and imported butter, Lewis says.
In oils, the top four are palm, soya, rapeseed and sunflower, says Helen Flower, marketing manager, food ingredients at vegetable oils and fats producer AAK. Interest is also growing in shea and coconut.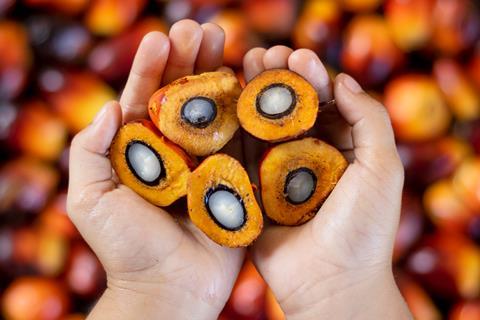 The palm problem
Palm oil has perhaps the worst reputation as unsustainable palm has been responsible for extensive deforestation across south-east Asia.
The UK Environment Act, which became law in November 2021, impacts particularly on sourcing oils such as palm and soy. Bakers will need to show that the commodities they use in their products have come from deforestation-free supply chains.
On the plus side, palm is an efficient crop, producing between three and ten times more oil per piece of land than alternative vegetable oils such as rapeseed, sunflower and soya, suppliers argue.
Today, thanks to improved sustainability certification schemes such as the Roundtable on Sustainable Palm Oil (RSPO), it's possible to get supply chain visibility on palm oil.
Manufacturers looking for the highest standards of traceability can source 'identity preserved' certified RSPO, for traceability back to the plantation. This is seen as the gold standard of palm oil sustainability, Lewis says.
"It's not as simple as one solution being intrinsically 'better' than another. Each product presents its own set of challenges"
With soya too, there are sustainable options out there – and certification schemes in place, to define and support sustainable production standards, and protect vulnerable people and places, Lewis adds.
"Key for many of our customers, will be the need to demonstrate that their supply chains have not contributed to the destruction of forests overseas," says Flower.
Rapeseed and sunflower are often grown closer to home, resulting in lower food miles, but full life cycle assessments are needed to better understand their full environmental impact, she says.
"With liquid oils such as sunflower and rapeseed, there is an opportunity to improve the farming systems through regenerative agriculture and in that way to meet greenhouse gas reduction commitments," comments Mattia Guglielmi, sustainability lead at Cargill.
Livelihood improvement projects as well as certification programmes on other fats may also be making a difference locally.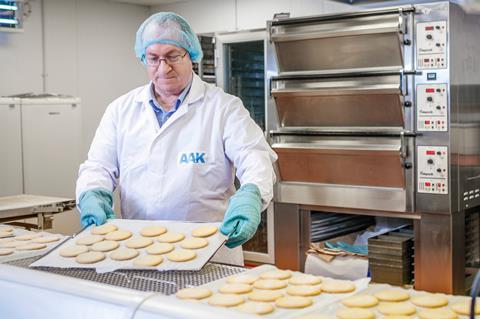 Plant-based
Bakers should also weigh up the growing plant-based eating trend when it comes to sourcing sustainable bakery fats, suggests Philippa Knight, marketing director, Puratos UK. According to Taste Tomorrow, Puratos' research programme into consumer choices, 51% of UK consumers now believe plant-based products are better for the environment.
Compared to animal fats such as butter, using vegetable fat-based margarine represents a much lower carbon footprint, three times less, and 50% less land is needed, says Barbara Lanzoni, director fats & oils, category marketing at CSM Ingredients.
"As well as the baking qualities it offers, it's also worth considering that margarine is suitable for those following a plant-based/vegan diet because it does not contain any animal products," she says.
Also think about waste, says Flower, at AAK. No matter how sustainably sourced your bakery fats are, it's not great for the environment or your business if you use more than you need in the manufacturing process. You can use less oil by changing blends, adapting mixing processes, or by switching to a liquid rather than boxed fat.
"It's vital for manufacturers to develop long-term, trustworthy relationships with key suppliers, with transparency at the core"
The best way forward is to think carefully about your ingredients and speak to your suppliers, Flower recommends. Ask them to share information about the environmental credentials of the ingredients they supply, as well as their own sustainability goals and achievements.
Bakers can also work with government agencies to understand the supply chain, suggests Knight at Puratos. This can include linking with the Institute of Export & International Trade and seeking advice on imported goods from the UK government website.
Information on traceability should be more readily available than in the past, with sustainability moving up the political agenda, she says.
Manufacturers should explore what recognised and credible certification schemes there are for their preferred baking fats, suggests Baker & Baker's European sustainability manager Nicholas Bevan. Sourcing baking fats locally improves their sustainability credentials and provenance, he believes.
"It's vital for manufacturers to develop long-term, trustworthy relationships with key suppliers, with transparency at the core," Bevan urges.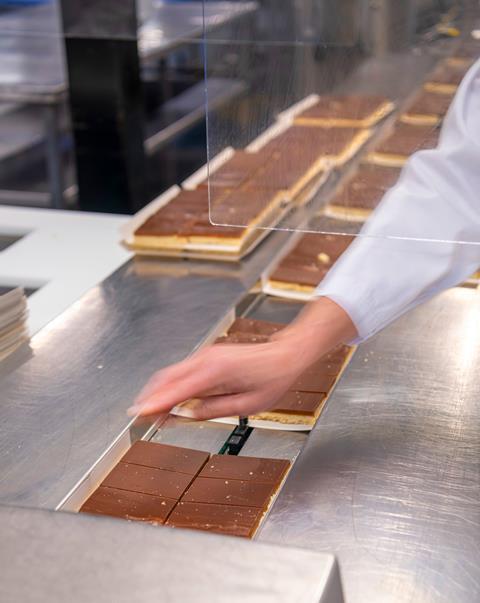 Process changes
Aside from the ethical considerations, changing fats also impacts on the look and taste of products. Bakery is a particularly challenging category when it comes to changing fats.
Depending on the product, fats perform a variety of functions in baked goods, adding richness, flavour, moisture, and mouthfeel for example, says Robert Lambert, head of marketing & communications at Ulrick & Short.
This means that the percentage use and type of fats can fundamentally change the organoleptic and visual properties of the finished product.
To successfully substitute fats, developers must first fully appreciate the functions of fat in that specific application.
There is no 'one size fits all' approach to reducing fat. For instance, reducing fat in a custard or filling application requires different ingredient technologies from reducing it in a sponge.
The inclusion of different ingredients can impact structure, chewiness, and mouthfeel. "Both functionality and taste can be affected by changing ingredients, so such decisions require the input of different teams such as R&D and production," says Bevan.
You may have to balance out product performance and processability to achieve the same quality final product. Guglielmi at Cargill says that if you decide to change the origin of your fats, you should also take into consideration that nutritional values are subject to change.
Additional benefits
Outside of wrestling with the properties of the baked goods, switching to more sustainable fats solutions can provide opportunities from a marketing perspective, and make products more desirable to the ever-growing number of sustainability-conscious consumers, comments Gary Lewis, president at the National Edible Oil Distributor's Association.
Reformulating recipes can bring a range of benefits, helping to reduce sugar, cut calories and meet demand for vegan options, as well as reduce the carbon footprint, adds Flower at AAK.
Another potential upside is that changing fats might also reduce your ingredients' costs.
Lewis warns that prices of fats can be extremely volatile. Factors to take into consideration include demand, the quality and yield of crops, and any transportation and supply chain issues.
The cost implications of changing fats depend on the type of fat removed and the fat replacement ingredient. However, in many cases cost savings may be achieved in swapping fats, and efficiency potentially increased.
Lambert from Ulrick & Short says that its fat replacement technologies are starch-based. They are often not a 1:1 replacement and applied at a ratio with water, which reduces the cost in use of the replacement ingredient. For instance, when replacing premium fats such as double cream, products can provide a cost saving in application.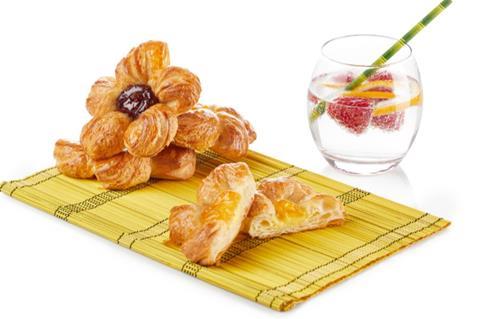 Knight at Puratos says that its Mimetic plant-based butter alternative is cost-efficient, by as much as 40%.
The extended shelf life and reduced wastage associated with Mimetic are also environmental and efficiency considerations.
"It's worth knowing too that in recent years plant-based alternatives have offered greater price stability than their dairy counterparts, which is a huge advantage," says Flower.
It's important to look beyond the ticket price as well. A more expensive blend could be used in smaller quantities and save time and money in processing.
With added-value sustainable products being developed, and potential cost savings on offer, bakers would be well advised to make sure they get a firm grip on their fats this year.