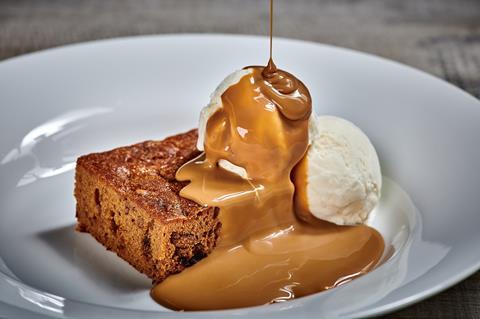 From plant-based binders to pretzel pieces, ingredients companies have been busy adding to their portfolios with bakers in mind.
Here we round up recent launches from the likes Henley Bridge, Macphie and Ulrick & Short aiming to tap into the latest trends: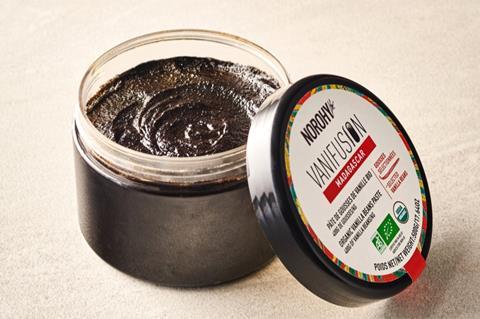 Tahitian vanilla, Henley Bridge
Ingredients supplier Henley Bridge has added Tahitian vanilla, organic bourbon vanilla extract and vanilla fusion paste to its Norohy range.
The Tahitian vanilla pods are intended to complement the company's Madagascan offering to provide further flavour options for pastry chefs, confectioners and chocolatiers, it said. They are available in two sizes – 14-17cm and 18-20cm – and both are sold in pack sizes of 125g and 250g. A Tahiti Vanilla Store Kit is also available.
Vanifusion is an organic vanilla pod paste developed in collaboration with pastry chefs from L'Ecole Valrhona in France. Using all parts of the pod, it adds the 'delicate and intense character of Bourbon vanilla from Madagascar' and is available in 500g tubs.
Norohy Organic Bourbon Vanilla Extract offers 'intense woody vanilla notes', with 20g providing the same vanillin content as an entire vanilla pod, according to Henley Bridge. The recipe uses Madagascan vanilla pods and organic cane sugar syrup, is free from artificial colourings and additives and available in 1kg bottles.
"The Norohy brand is synonymous with high quality standards," said Tracey Hughes, managing director of Henley Bridge. "Their vanilla pods are selected with the utmost care in specific regions of Madagascar and Tahiti and honour the company's strict commitment to transparency and traceability, making them an ideal fit for Henley Bridge."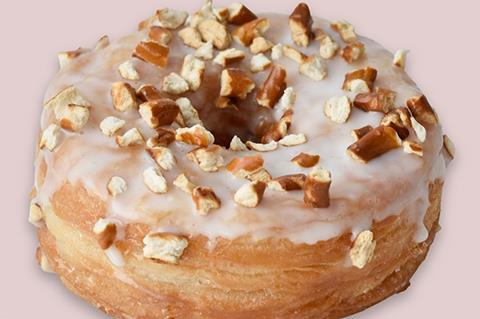 Pretzel pieces, Pecan Deluxe
Sweet specialist Pecan Deluxe has launched pretzel pieces in a selection of coated and uncoated options for a variety of food applications.
The new crushed pretzel range consists of three variants, all with the claim of being nut and sesame free. The variants are – regular uncoated, milk chocolate coated, and barrier coated with cocoa butter.
The latter two options are suited to adding to foods where moisture is present, with the coating providing a layer of protection to maintain crunch, Pecan Deluxe said. The individual pieces measure around 4-6mm for the uncoated and cocoa butter coated options, and the chocolate coated pieces range up to approximately 10mm.
"We're excited to share these new products with both existing and new customers and we can't wait to see all the different ways they plan to use them," said Hannah White, Pecan Deluxe business development manager.
All Pecan Deluxe products are made using natural colours and flavourings in allergen controlled, BRC AA Grade facilities, the company added.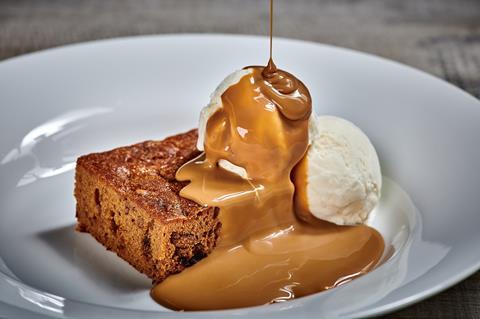 Sticky toffee cake mix, Macphie
Macphie is adding sticky toffee flavour to its Sensation cake mix range for a limited period due to consumer demand.
The new mix contains date pieces, is suitable for vegetarians and available in 12.5kg bags.
"While health has played a more prominent role in food trends over the last few years, comfort food is back and is here to stay, with 69% of consumers saying they will continue to enjoy the same amount of comfort food post pandemic as they did during lockdown," said Kirsty Matthews, Macphie's marketing and insights manager.
"There are some flavours that never go out of fashion and sticky toffee is a classic comfort food and dessert menu staple," she added.
First launched in 2006, the Macphie Sensation cake mix range also comprises apple & cinnamon, cherry bakewell, chocolate orange, ginger, and lemon flavours.
Organic ingredients, Ulrick & Short
Ulrick & Short has extended its organic ingredient portfolio with Complex 1 and Complex E functional binders, designed to provide improved textural properties in plant-based meat substitute applications.
Organic Complex 1 is designed to provide a high-binding capacity for plant-based recipes and offer 'a better-quality mouthfeel and eat'. The product also allows manufacturers to make front-of-pack 'source of/high in' protein claims without major recipe reformulation or significant changes to flavour profiles, Ulrick & Short said.
Organic Complex E, meanwhile, binds moisture in fat when cooked, providing an open, softer texture for both meat and plant-based products, such as sausage rolls.
"The organic sector in the UK has had a recent resurgence," said Danni Schroeter, Ulrick & Short R&D manager. "This latest expansion of our protein range has been designed specifically for the growing plant-based meat sector.
"Organic Complex E and Complex 1 are great products for improving the bite, texture and succulence of these products," Schroeter added.
Both ingredients are clean label, non-GMO and certified organic, the company said.