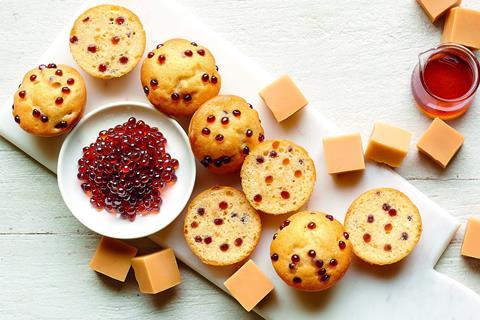 Baking and ingredients supplier Puratos has unveiled new inclusions called Smoobees.
Described as a "new sensorial, visual and taste experience", Smoobees are essentially soft spheres of flavour that Puratos said offered taste and texture in every bite.
They come in three flavours – blueberry, caramel and lemon, are suitable for vegans, and the fruit variants contain up to 30% fruit. They're described as soft and creamy with a melt-in-the-mouth texture.
Adding fillings, fresh fruit or other inclusions to cakes can often be technically challenging for manufacturers, Puratos added, citing the need for injection equipment, bake stability and more.
As such, Smoobees are mix- and bake-stable inclusions, which offer manufacturers "a new creative playground to explore" without having to adapt production processes.
"Our patisserie expertise and passion at Puratos means we have been able to adapt an idea which has its roots in molecular gastronomy, to the needs of patisserie producers," said Victoria Forward, application specialist industrial patisserie, Puratos UK.
"We have developed a uniquely creative and fun inclusion solution in Smoobees, which is light and airy, yet creamy and indulgent."
Smoobees have been developed following Puratos' Taste Tomorrow research that found taste was the number one criteria for consumers when buying patisserie, pastry and chocolate, and texture was a key element of taste. Nearly two-thirds (64%) of respondents to the research said they liked trying food that offered a different mouthfeel.
Puratos said Smoobees translated this trend into a real-world innovation for professional baking.