Happiness, breathtaking fjords and unusual Eurovision entries (think masked heavy metal band Lordi) are among the things the Nordic countries are renowned for.
Buns are another one. Known in Swedish as kanelbullar, which translates to cinnamon buns, they're a common sight at coffee parties and fika (often translated as a 'coffee and cake break').
It's no surprise then that these knotted and swirled delights have found a fanbase on UK shores.
"Certainly, in the last five years or so, the Nordic influence has grown," explains Katie Lister, UK marketing director at Danish bakery Ole & Steen, which is famous for its kanelstang, or long shareable pastries known as 'socials', in its bakeries in London and Oxford.
Ole & Steen sell around 200 cinnamon socials per store, per day, Lister adds, simply because "they are delicious". "Most of our customers now know what to expect but occasionally you get someone coming in and asking for 'that cinnamon thing that everyone talks about'."
The talk isn't just happening face to face – cinnamon buns do well on social media, particularly Instagram, as well.
Soho-based Nordic Bakery is one example of a business whose social feeds are dominated by its buns, even more so as it gears up for its annual cinnamon bun week celebration taking place between 28 September and 4 October.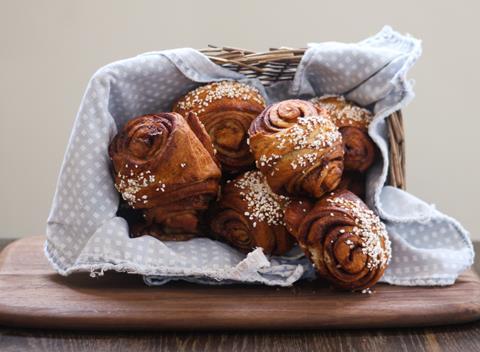 "We have two styles of bun, but both are shaped by hand and individually baked," explains store manager Marilena Skivalos. "We make classic Finnish cinnamon buns that are traditionally shaped, and rustic cinnamon buns that are denser and sweeter compared with the traditional ones."
That's not to say the Nordic treats have a monopoly on the UK bun market.
"Don't forget that you could buy cinnamon pastries at French bakeries, as well as traditional British bakeries long before that. We've just put our own special twist on the market," Lister adds.
Indeed, the UK has long-standing relationship with buns both homegrown and from further afield.
Take Bath buns – named after the city in Somerset. They're sweet rolls made from a milk-based yeasted dough with sugar on top and some contain a lump of sugar inside along with dried fruit. And, of course, there's the swirled Chelsea bun flavoured with lemon peel, cinnamon or mixed spice.
Also popular are the American-style cinnamon buns which are batch-baked, filled with sticky cinnamon sugar paste and laden with thick cream cheese frosting on top.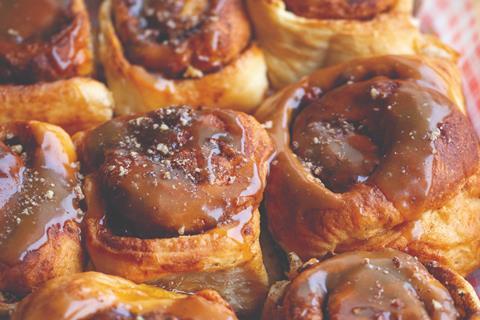 What's finding favour?
With so much choice, which ones are currying favour in the UK? What are the pros and cons of each method of bun-making? And, what's on the horizon when it comes to new flavours and styles?
At a British Society of Baking's Spring Conference in 2018, Bread Ahead founder Matthew Jones declared that "cinnamon buns are the new doughnut" and were on "an upward trend".
According to Megan Charnock, founder of craft bakery Mini Miss Bread in Saffron Walden, Essex, Jones is one of the people behind the surge of interest in buns.
Sticky buns, cinnamon buns and brioche are all perfectly acceptable to eat in the morning
"Bakeries such as Fabrique and Bread Ahead have helped to make cinnamon buns more popular in recent years," she believes.
Both bring different styles to the market. Originally from Stockholm, Sweden, Fabrique now has six shops in London and specialises in the knot-style buns. Bread Ahead, meanwhile, meander across the continent from swirled cinnamon buns brushed with an orange & lemon syrup to new addition babka buns, described as the perfect balance between fluffy brioche and indulgent chocolate filling.
Mini Miss Bread opts for the knot-style bun simply because "they look nicer", although Charnock jokes it's because her and fellow baker, husband Jeff "like to make life difficult for themselves".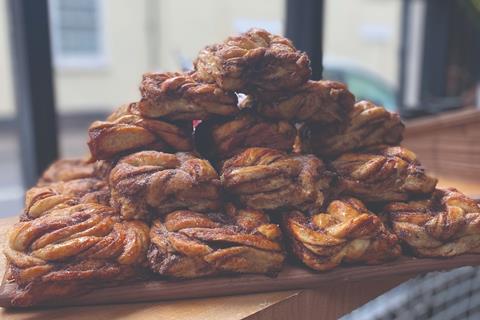 "We pride ourselves on handmade, artisan methods and we'd hate our products to look identical, as if made by a machine. The knot is also more authentic to the traditional Nordic style," she adds.
Up in Muir of Ord, Scotland, Bad Girl Bakery started experimenting with yeasted dough as a way to add some variation to its displays, as they provide such a different texture and shape to anything else on the menu. The resultant sticky buns also filled a gap in the market.
"We needed products that would sell in the morning," owner Jeni Hardie explains. "Sticky buns, cinnamon buns and brioche are all perfectly acceptable to eat in the morning."
What's more, they can be sold fresh from the oven – a key selling point for Mini Miss Bread and Bad Girl Bakery alike. In fact, both have been known to have customers waiting for them to emerge.
"They're the kind of things you can sell literally 10 minutes after they come out of the oven," Hardie adds. "The joy of people buying them when they're still warm is just really lovely."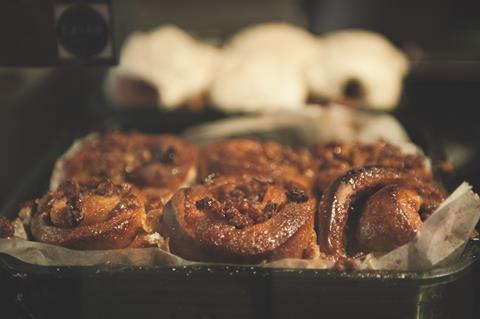 Customer approval
Hardie and her team have also gained customer approval with Swedish Semlor buns, a cardamom bun which has the top cut off, filled with crème patissiere, and the top placed back on. Besides the cardamom, they're akin to local favourite Scottish cream buns.
"They're delicate and lovely," she says. "I like Swedish buns because they're individual and pretty. Cinnamon buns are nice to buy for yourself, but you wouldn't buy a box for someone else."
Nordic treats may look more delicate, but there are several downsides when it comes to the production process, according to Cinnamon Square founder Paul Barker.
They're the kind of things you can sell literally 10 minutes after they come out of the oven
"They do take more work as the process is fiddlier. It depends how you shape them – a knot is quite straightforward, but if you want a Winston knot, you're there forever trying to do it as it's more complicated," he says. "With the cinnamon bun we make a long sausage and chop out every two inches. With our cardamom bun we cut out strips, twist them and then making a knot from it."
Knots also take up more space in the oven, Barker adds, as they're individually baked. All in all, it's a lot of effort when you sell 20 cardamom buns compared with nearly 200 cinnamon buns on a Saturday.
Cinnamon Square's cinnamon buns and Ricky Sticky buns (named after Rickmansworth, where the bakery is based) have curated an even larger audience during lockdown thanks to home delivery.
"We've really targeted distribution nationally, particularly using Facebook promotions," Barker adds. "It's phenomenal. We've been doing 60 boxes of four or nine buns a week and we're sending them to Scotland, Wales and Cornwall – all these places we could never get to."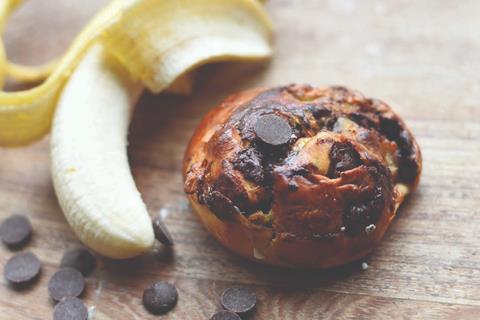 Room for customisation
Looking forward, while cardamom and cinnamon flavours reign supreme in buns, many bakers believe there is room for customisation – just don't expect to shift the same numbers as the classics.
It's a way of adding value, believes Michael Schofield, marketing manager at British Bakels.
"The nation is beginning to crave added-value items they've come to miss for much of 2020 and the buns category provides room for opportunity," he says. "Value can be showcased in the variety of flavours on offer, the format available and also the softness and shelf life of the baked goods."
Notably, he highlights Ole & Steen's socials – which he says offer the element of customisation and sharing – as an example of an added value alternative to standard ranges.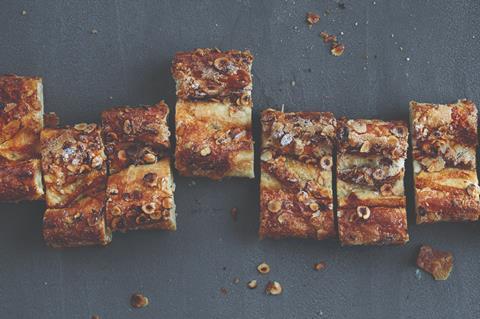 Ultimately, there are three elements of any bun that can be tweaked – dough, filling and topping. Barker hasn't shied away from experimenting with a vibrant red velvet (a red bun with white chocolate filling and frosting on top), chocolate orange and lemon buns among recent variations.
Regardless of the flavour combination, all three elements can be tweaked which helps make them visually distinctive as well. "If you were doing a banana bun, for example, you could put banana in the dough, in the filling or in the topping," he explains.
Ole & Steen, meanwhile, has just launched a new cardamom lemon swirl which Lister says is already selling well. She says the bakers are also experimenting with pistachio flavourings and sprinkles.
London's Nordic Bakery has particularly embraced autumnal flavours such as apple & cinnamon, caramel & pecan and on-trend pumpkin spice in its buns, but Skivalos notes that its bakers have experimented with the likes of cherry and coconut for fruiter versions.
They might not be 'traditional', but if the UK's appetite for buns proves anything it's that there are plenty of people open to new, and delicious, takes on the doughy format.