The latest bakery products to hit retailers and wholesalers this winter include the return of old favourites and nostalgic nods to sweet classics along with indulgent innovations.
Here are some of the newest launches targeting snacking and sharing from the likes of Pladis, Baked by Rich's, Burton's, The English Cheesecake Company and Nairn's: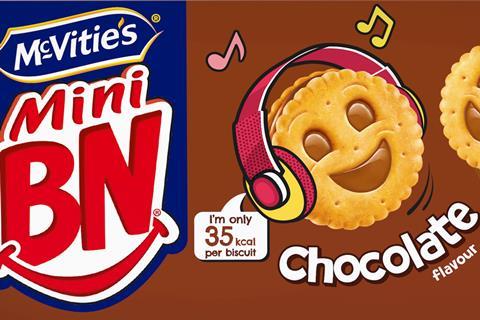 BN biscuits, Pladis
Pladis is bringing back the BN biscuit brand to UK supermarket shelves under the McVitie's brand after a four-year hiatus.
The biscuits have been launched in Asda stores nationwide and will be rolled out into additional supermarkets across the country from February. The full-sized biscuits – which come in tower packs of 16 – are available in chocolate and vanilla variants. Mini BN are available in chocolate or strawberry, with each box containing five grab-and-go packs of five biscuits.
"We see McVitie's BN bringing moments of joyful fun to families and households up and down the country, whether during sharing moments in front of a film, or out and about on family adventures," said David Titman, marketing director – McVitie's, at Pladis UK&I.
The BN launch follows McVitie's announcing its headline sponsorship of Britain's Got Talent this year. Throughout the sponsorship, packs of McVitie's BN will include a 'Proud Sponsors of…' flash.
All of the BN products have an rsp of £1, and packaging will be recyclable through Pladis' partnership with Terracycle, the manufacturer said.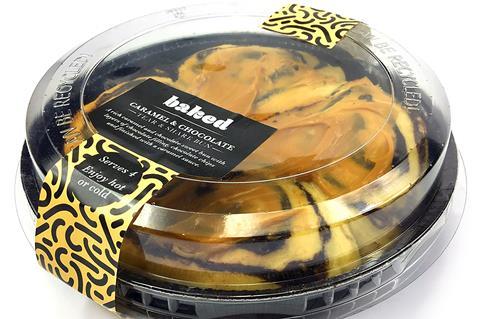 Tear & Share Bun, Baked by Rich's
Baked by Rich's has expanded its range with the launch of a Chocolate & Caramel Tear & Share Bun.
The bun, which can be served cold or heated in a microwave for 60 seconds, features layers of chocolate filling studded with chocolate chips, with a hand-finished topping of caramel sauce and chocolate curls.
"More so than ever, bakery items need to stand-out in store," said John Want, sales, marketing and R&D director at Rich's. "There is big opportunity within bakery to make a lasting impression on shoppers, with highly visual products that tap into the artisan/coffee shop experience for consumers to enjoy at home."
The Baked by Rich's Tear & Share Bun has launched initially into selected Asda and CJ Lang stores with an RSP of £3.49.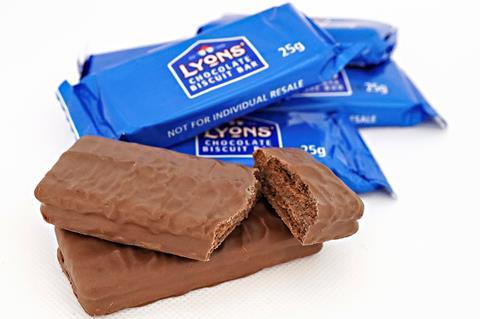 Lyons' Chocolate Sandwich Bar, Burton's Biscuit Co
Burton's Biscuit Co has added to its Lyons' Biscuits range, designed specifically for its foodservice customers, with the Chocolate Sandwich Bar.
The biscuit, which is individually wrapped, is sandwiched with a creamy chocolate centre and covered in a milk chocolate outer coating.
The company, which founded a dedicated foodservice division in 2021, said it has launched the bar 'to provide a further affordable and accessible biscuit choice to all out-of-home channels'.
"The Lyons' Chocolate Sandwich Bar was developed as a high quality, great tasting, value snacking option in response to the current cost pressures within foodservice," said Will Jennings, director of foodservice sales at Burton's Biscuit Company. "We want to provide operators with a cost-effective alternative in a well known and loved format for consumers."
The product is available from foodservice wholesalers in cases of 256 bars.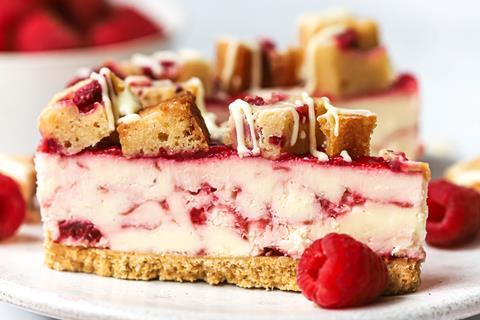 White Chocolate & Raspberry Blondie Cheesecake, The English Cheesecake Company
The English Cheesecake Company has launched a new handcrafted White Chocolate & Raspberry Blondie Cheesecake for the foodservice and hospitality sector.
The product comprises of a double cream enriched white chocolate cheesecake studded with fresh, juicy raspberries, topped with a layer of raspberry coulis and finished with a drizzle of white chocolate fudge sauce and a scattering of squidgy blondie pieces – all sat upon a biscuit base.
"We wanted there to be a nostalgic nod to a raspberry ripple whilst bringing it right up to date with a twist with the addition of our blondies and white chocolate," said Josh Laurier, operations director at The English Cheesecake Company. "This is the first of a range of new lines we have been working on and we can't wait for everyone to try it."
Available from wholesalers or directly from the company's website, the cheesecake arrives frozen and is pre-portioned into 14 slices.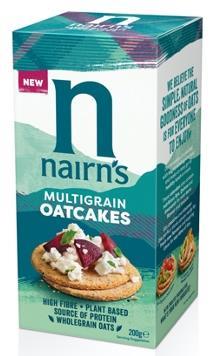 Multigrain Oatcakes, Nairn's
Made with Scottish wholegrain oats, Multigrain Oatcakes are the latest addition to the Nairn's family of products.
Designed to provide fibre and protein in snack form, the oatcake also features ancient grains amaranth, rye and quinoa.
"With the classic oatcake texture and an almost nutty flavour, this perfect blank canvas will add a boost of fibre, protein and vitamins to snacking," the manufacturer said.
According to Nairn's the product is made with a wheat-free recipe, is suitable for vegans and features no artificial colours, flavours, preservatives, GM ingredients or added sugar.
The Multigrain Oatcakes have been launched into Asda with an rsp of £1.39.