Father and daughter team Clayton and Hannah Worth are looking to make a mark on the bakery scene with their brand-new invention, Bowla.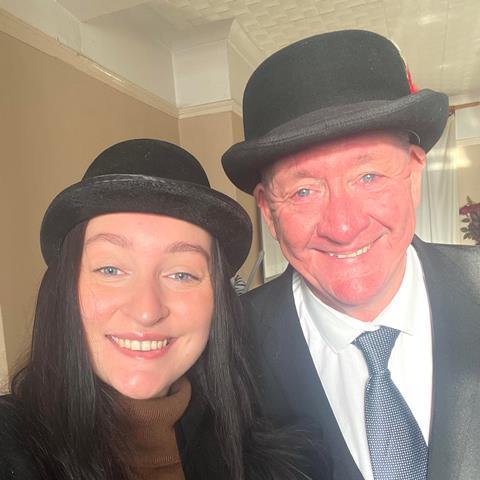 Known as the bowl with a roll, Bowla is a bowler hat-shaped loaf which, when baked, allows for the top to be separated from the bottom to produce an edible bowl and a roll for dipping.
The innovation began life in 2007 following a mishap with a second-hand bread making machine purchased from a charity shop. The dough inside had risen so much it was touching the lid. Clayton, unable to stop the cycle, waited to see what would emerge from the machine. The resulting loaf had mushroomed over, resembling a top hat once it had been turned out.
After a positive reception from work colleagues at the time, Clayton made it his mission to bring the product to market. The journey, however, hasn't been an easy one with Clayton balancing its development with his full time job as a engineer.
"I've had years and years of failures," he told British Baker. "I was trying to emulate the bread maker technique and failed miserably because you really can't control dough."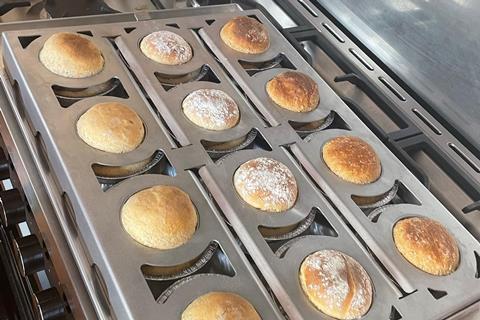 It was this realisation that led to the development of the Bowla mould. Several prototypes later, and the duo have secured a patent that covers the configuration of the mould which allows for the dough to bake into the iconic bowler hat shape. Currently, a four-inch diameter aluminium mould is used but this can be changed to make different sizes of Bowlas.
Notably, any type of leavened dough can be used, including white, brown, olive, tiger, and garlic bread as well as sweet doughnut dough and even Yorkshire pudding batter.
"It's so versatile," adds Hannah, "the fillings and flavour combinations are endless".
View this post on Instagram
Sixteen years after the initial idea, Bowla is now ready for a commercial launch.
It kicked things off with a pilot location at Swansea Indoor Market, which opened in early April. Here, Clayton bakes the rolls fresh every day before Hannah fills them for customers. Consumers can choose from a variety of fillings, which change on a regular basis and currently include chicken tagine, Welsh cawl, and vegetable casserole. The filled Bowlas sell for £6 or two for £10.
The site will act as Bowla HQ, with the family-run business aiming to run pop-up shops and regular outreach in and around Swansea to test appetite for the product.
Neither Hannah nor Clayton have experience in the baking industry, but the pair worked with Lee Pugh at Zero2Five in Cardiff to perfect the Bowla technique and recipe. This included hands-on baking sessions, as well as advice on ingredients for the best finished product.
Future ambitions
While starting small, the father and daughter team have big ambitions for Bowla.
"The idea is scalable," explains Hannah. "We'd love to franchise and license our configuration moulds and our branding to those who'd like to sell Bowlas."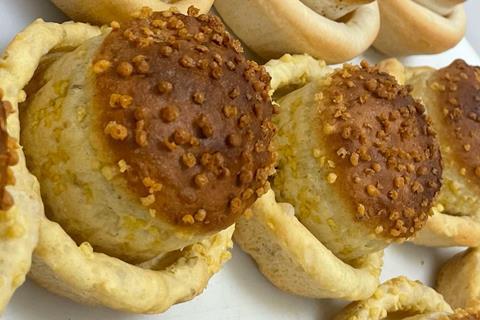 The duo anticipate that Bowlas could be popular at sporting events and festivals, noting that there's potential for other dedicated Bowla sites to be opened by franchise partners in the future as well as the bowl with a roll being supplied to other bakeries and cafes.
Notably, the term Bowla and the phrase 'a bowl with a roll' have been trademarked, meaning they can't be sold by a third-party unless they are licenced from Clayton and Hannah.
"Eventually we'd like to sell the business on as a package to a major player in the bakery industry who can take it further," she adds.