Improving sustainability, vegan-friendly launches and lunchtime occasions are high on the agenda for some of the UK's biggest pie brands as they look to tap into biggest trends in 2021 and beyond.
In the second and final part of our pie Q&A, we quiz pie players on their plans for this year and what the hottest trends hitting the pie market in 2021 and beyond are.
Here's what they had to say:
What are your plans for the next 12 months?
Phil Turner [PT], managing director, Turner's Pies: We are very much on course to continue with the growth and we want to rise to that demand in a smooth and controlled process. We are mindful that once people have renewed confidence in the high street experience following the pandemic that we will see a bigger footfall in our shops and with that in mind we will cautiously look at opening two stores as well as the ones we have in Chichester, Worthing, Bognor Regis and Rustington.
Helen Bowyer [HB], commercial director, Wrights Food Group: For almost 100 years we have specialised in meat-based pies and in 2021 we plan to launch plant-based alternatives to our top selling customer favourites that we focused our work on internally in 2020. These will be alternatives to favourites such as our steak and chicken & mushroom.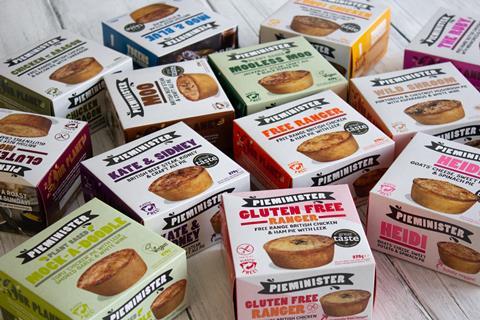 Jon Simon [JS], co-founder and MD, Pieminister: Making sure sustainability runs through everything we do. Towards the end of 2020 we set ourselves a series of goals to hit by 2025, covering everything from animal, human & ecological welfare, to climate change and waste. The goals are pretty ambitious, for example, one is to reduce greenhouse gas emissions by 50%, which exceeds the Science Based Target Initiative for a business of our size. But we think anything less isn't an option.
Rachel Cranston [RC], head of marketing and innovation, Pukka: We want to continue putting more pies on more plates more often and we're excited about all that's to come.
In the immediate future, our award-winning multichannel campaign – The People's Pie – will be returning to TV screens which puts people at the heart of the Pukka story and features our new vegan range. This will be supported with digital, retail, foodservice, social, OOH, shopper marketing and PR.
Within the advert, we will once again shine a spotlight on the fish and chip shop industry to encourage people to tuck into a pie and chips from their local chippy. Fish and chip shops have always been at the heart of our story and now, more than ever, the industry needs to come together and support one another. There is still a strong appetite to visit local fish and chip shops, with an increase in the last few months in trade over lunchtime.
Leanne Holcroft [LH], brand manager, Holland's Pies: Coming up this year is our 170th anniversary.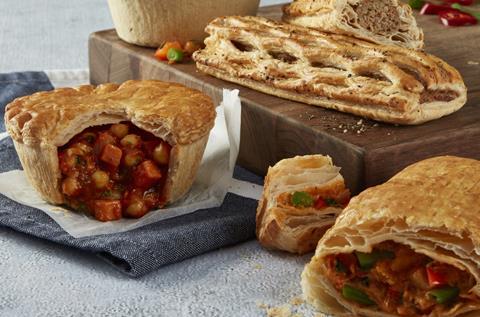 What are the biggest trends influencing the pie market?
RC: Frozen food has been flying off supermarket shelves since the start of the pandemic, with 32% of consumers purchasing more frozen products since lockdown.
In addition, demand for meat-free occasions continues apace with 55% of consumers reducing their meat intake, and Pukka continues to lead the way by delivering NPD to the market that meets the differing needs of consumers.
We first tapped into the vegetarian market with the launch of our Veggie Cheese, Leek and Potato pie – and in just 12 weeks between October to December 2019, it added over £500k to the hot pie category and today, is worth £3.2m, making it the best-selling vegetarian SKU in the category.
Appetite for vegan food has skyrocketed and the plant-based market is now worth over £600m in the UK, with the number of vegans increasing by 350% in the last year.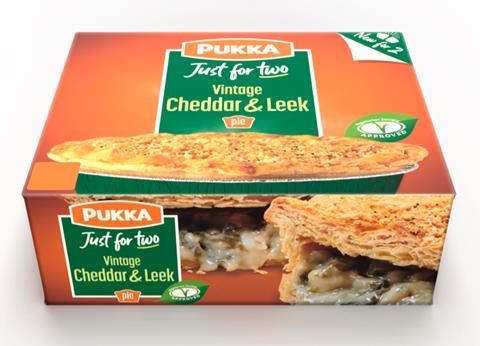 PT: We are conscious that online has been prime for growth and we know through our Pies By Post business that people's eating habits have changed. People are more conscious with health and nutrition and we want to continue to develop products that cater for this demand; think ranges that embrace gluten-free, vegetarian, vegan, wheat-free and dairy-free.
JS: Since the start of the pandemic we've noticed a surge in support for independent businesses, and also businesses working hard to deliver what conscious consumers want; great tasting food made sustainably. We've certainly noticed this within the pie market.
Plant-based is still a growing trend as an increasing number of consumers look to reduce their meat (especially beef) and dairy intake. We think this is a direct result of the undeniable fact that even though grass fed livestock can be beneficial in terms of soil health and biodiversity, the human race does need to reduce the amount consumed. This is why we're introducing pies like the Mooless Moo (sustainably sourced jackfruit 'steak' slow cooked in a vegan stout) to sit alongside our beef pies (made with predominantly grass-fed British beef).
A demand for new lunch-at-home products is something else we've seen, with more of us looking for simple ways to brighten our lunchtimes while we're all WFH.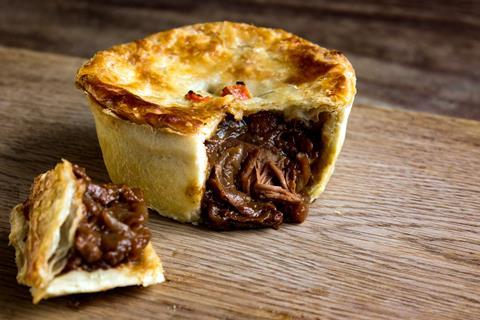 HB: Our experience with customers across all sectors from our own retail outlets to supplying the multiples, wholesale and hospitality is that plant-based options remain the focus.
Food-to-go is an ever-growing area of our business and is having a huge impact on sales of all our pastry products. In 2020 our overall retail sales were up across our full sweet and savoury product range and we have increased our meat and vegan pie supply into garage forecourts. This includes the introduction of wrapped savoury products and new ISB lines including our vegan sausage roll, the chicken & mushroom pies and sausage rolls which are baked onsite from frozen to give the theatre of that freshly baked bakery experience.
LH: Our target market is people wanting quick lunch and snack solutions as they attempt to juggle the stresses that lockdown has brought, such as working from home, home-schooling, and getting used to a new routine. Holland's Pies can be microwaved and ready in minutes, which we think has appealed to most of the country.