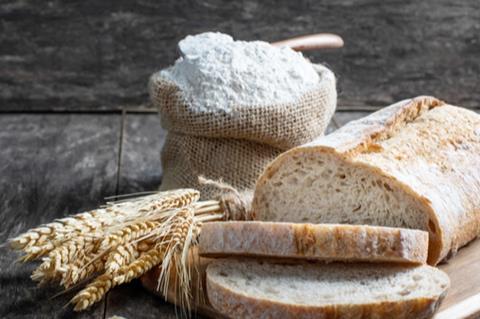 Folic acid will be added to non-wholemeal wheat flour in the UK to help prevent spinal conditions in babies, the government has announced.
The Department for Environment, Food & Rural Affairs (Defra) is currently undertaking a four-nation review of Bread and Flour Regulations in conjunction with the Department of Health and Social Care, Food Standards Agency, and Food Standards Scotland. The implementation of the UK decision on the mandatory fortification of flour with folic acid will be included in this review, the government said.
"Few things are as important as a baby's health – and folic acid-fortified flour is a quick, simple win to enhance their development," said prime minister Boris Johnson. "This will give extra peace of mind to parents and families, as well as helping boost the health of adults across the country," he added.
Since the Second World War, flour has been fortified with calcium, iron, niacin and thiamine during milling. The latest announcement means the UK joins 80 countries, including Australia, New Zealand and Canada, which are adding folic acid to staple food products to combat neural tube defects.
According to the government, adding folic acid will mean foods made with flour, such as bread, will actively help avoid around 200 neural tube defects each year – around 20% of the annual UK total. With non-wholemeal flour already an established vehicle for fortification in the UK, the costs of fortification to industry are expected to be minimal, it added.
Wholemeal flour and gluten-free foods are not subject to mandatory fortification and these products are not in the initial scope of this policy. Wholemeal flour has more naturally occurring folate than non-wholemeal wheat flour, and some wholemeal and gluten-free foods are already voluntarily fortified with folic acid in the UK.
"This public health decision is not anticipated to require major overhaul for industrial-scale flour producers," said a government spokesperson. "Folic acid will need to be added to the labelling of all foods made with flour – as is the case with other fortification."
Alex Waugh, director of UK Flour Millers, said members of the industry "will do all they can to overcome any practical challenges to make [the change] happen."
Gordon Polson, chief executive of the Federation of Bakers (FoB), has welcomed the decision.
"Bread is already a major contributor to the healthy diet of the nation and an important source of carbohydrate, fibre and a wide range of nutrients, including calcium, iron and B-vitamins," he said.
"The FoB has consistently said that the fortification of flour is a medical decision and as an industry we have always been responsive to what is in the best interests of consumers. Our members, therefore, remain committed to responding positively to this announcement and look forward to working with government on the details of adding folic acid to non-wholemeal flour."