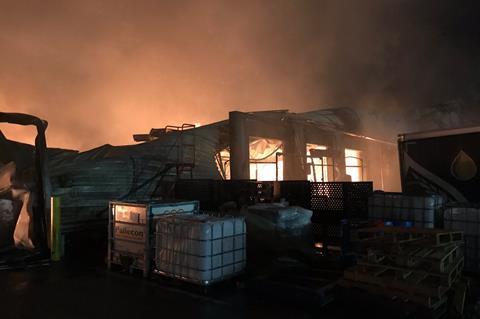 Sixteen fire engines and around 100 firefighters dealt with a huge fire at ingredients supplier Kent Foods' warehouse in Basildon, Essex.
The Essex County Fire & Rescue Service (ECFRS) was called at 22:22 on 29 August and the fire was brought under control by 16:30. A fire crew from Basildon and surrounding stations attended the scene, as well as The Environment Agency and Anglian Water. Two aerial ladder platforms were also used to control the blaze.
Its two million cubic feet warehouse is located on Christopher Martin Road. The industrial building collapsed during the initial fire, and 350 tonnes of molten syrup and treacle leaked from the scene. Initial 999 calls reported a fire on the roof of an industrial building.
Open since 2015, the Basildon depot consists of its bulk transport fleet, Paramount Coverings and Kent Edible Oil manufacturing plants.
Glasgow-based Kent Foods supplies sugars, sweeteners, dairy products, oils and fats to the food manufacturing industry in the UK and Europe.
The ECFRS worked alongside the Environment Agency and Anglian Water to put several special measures in place, making sure the watercourse was not affected by the leaked material.
Firefighters have now left the scene, with the Environment Agency and Anglian Water currently leading the operation.
"The fire at its height was extremely arduous and crews battled with extensive damage from flames, smoke and hazardous materials that were travelling off site at a rapid pace. I'm pleased to say nobody's been injured," said area manager Neil Fenwick.
"We are working with the owners of the premises, the Environment Agency and Anglian Water to support both a safe demolition of the building and the containment of hazardous materials. We are working hard to make the site as safe as possible," added incident commander Craig McLellan.