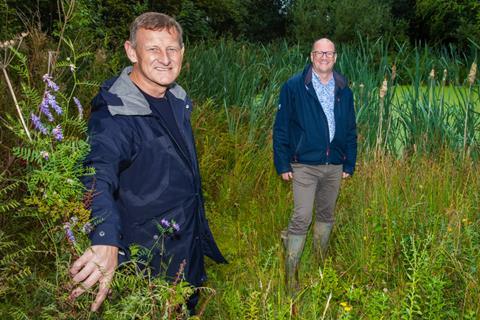 Marks & Spencer CEO Steve Rowe has pledged to donate £10,000 to Jones Village Bakery's woodland conservation efforts.
The chief executive of the retail giant made the commitment during a tour of the plant baker's recently opened 140,000 sq ft production facility at Wrexham Industrial Estate as part of a relaunch of the M&S Plan A environmental strategy.
The visit included a guided tour of the six-acre Erlas Black Wood adjacent to the site. Jones Village Bakery is an official partner of the North Wales Wildlife Trust in the conservation of the woodland. The £10,000 donation will be used to further develop the woodland as a local amenity, the bakery said.
So far, the company has created three ponds in the area to provide a haven for wildlife and there plans to set aside part of the site for allotments where bakery staff can grow their own fruit and vegetables. The woodland, which was part of a large area of medieval hunting parkland before the area was industrialised during World War II, will also be available to the public and workers from neighbouring factories.
"Conserving Erlas Black Wood and opening it up as a local amenity is a lovely way for the Village Bakery to play our part," said managing director Robin Jones. "As we grow, we're doing it in a sustainable way and it's nice to give something back to the community and ultimately back to the environment."
Jones Village Bakery's new facility opened in the summer, less than two years after a devastating fire destroyed the previous production plant on the site.
Rowe described the fire as "an absolute tragedy" and "one of the saddest days for colleagues here and the Jones family".
"The response from them, in conjunction with us, was first class," he added. "They took that piece of adversity and turned it into something which I think is extraordinary – the phoenix from the ashes."
Rowe also said the new plant was "one of the finest breadmaking facilities I have seen in the world, with the opportunity to grow and continue to enhance the technology behind the products".