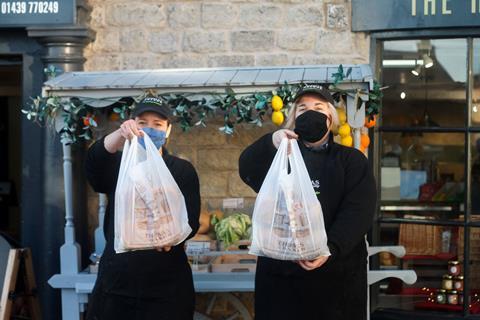 Yorkshire-based Thomas the Baker has rolled out potato starch bags to help reduce its plastic usage.
The compostable bags have replaced all the bakery's plastic bags as it looks to move towards totally eco-friendly packaging.
Made with 100% compostable material, the bag is made up of water, CO2 and biomass. It is also waterproof, and features water-based ink. The bags are strong enough to carry a substantial weight and can be reused multiple times, the bakery added.
Once the bags are no longer fit for purpose, consumers can put them in a home compost bin or use them to line food waste caddies.
The bakery distributes 350,000 carrier bags per year, which could make a big impact in terms of reducing its carbon footprint and minimising its use of plastic, it said.
"We've been investigating compostable carrier bags for a long time trying to find the right product. The bags are three times the price of traditional plastic which is presumably why they're not widely used, but we felt it was important to make a stand, and we chose these bags because they are strong and practical but they'll also completely compost down in a home compost or industrial composting facility," said Simon Thomas, general manager at Thomas the Baker.
He clarified that the bags are not the same as biodegradable ones – which are often plastic-bases – and are instead made from natural plant starch. The bags shouldn't be included in recycling or sent to landfill, he added.
"We advise people not to put them in for council collection with their garden waste. Although they could easily be composted, it is likely to be misidentified and classed as a plastic bag which risks the whole batch being contaminated," Thomas said.
Retailers in England with more than 250 employees must charge 5p for single-use plastic carrier bags. This will double to 10p in April and extend to all retailers, regardless of size.
Thomas the Baker donates profits from its carrier bag sales to local charities – to date it has donated in excess of £15,000.
The bakery has strived to make its processes as environmentally friendly as possible in recent years.
Paper bags are used where possible to allow them to be more easily recycled, nearly all of its products are freshly made and baked on the same day, which avoids the need to protect them with plastic covers to enhance shelf life and viable alternatives to plastic cake wrapping are being investigated.