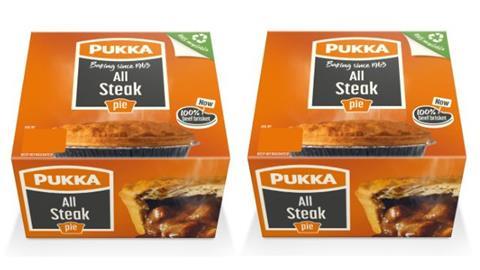 Pie brand Pukka has unveiled recyclable, plastic-free packaging alongside a series of updated recipes.
Rolling out now across Pukka's chilled single and sharing portfolio, the packs are made from Forest Stewardship Council-certified cardboard. Removing the plastic window on these saves 11.4 tonnes of plastic annually, which "marks an important step towards achieving even greater sustainability across our bakery, which is the right thing to do", according to head of marketing Rachel Cranston.
The branding has also been updated, moving away from Pukka's previous black with orange features (see right) to a bright orange all over to "create an orange beacon on-shelf that people are familiar with".
Recipe improvements will also be highlighted on the front of pack. The first to be tweaked are All Steak, which is now made with 100% beef brisket, and Minced Beef & Onion, which is now filled with more onions and what Pukka describes as a darker, richer gravy.
Coinciding with the recipe improvements is the second wave of campaign, The People's Pie, which goes live in February. It consists of TV, digital, in-store activity and social media.
"The creative celebrates the different ways that real people enjoy Pukka – be it at home, from the chippy or out and about – and reminds everyone that pies are the perfect everyday meal," added Cranston, who joined Pukka from free-from brand Alpro last year.
According to IRI figures for the 52 weeks ending 6 October 2019, Pukka is worth £36m, with sales up £4.4m over the past year. The hot pie category, meanwhile, is worth £244m, growing at 2.7%.
The brand's range has evolved in recent years, introducing an on-the-go range in 2018 to target the convenience market and unveiling a premium retail range in 2017, alongside a new CEO.
British Baker subscribers can find out more about the history of Pukka Pies by reading: 'Born & Bread: Pukka Pies'.