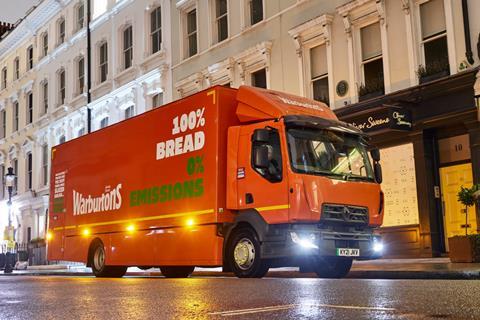 Warburtons has introduced its first 16-tonne electric vehicle to its secondary bread fleet.
Operating out of the bakery giant's Enfield site, the Renault Trucks D Z.E can cover up to 150km on a single charge and transport approximately six tonnes of bread and bakery products, Warburtons said.
Kitted out in orange livery with the slogan 'Our electric trucks are the best thing since sliced bread', the lorry is powered by 200kWh, 600 V lithium-ion batteries.
The truck is also said to be equipped with a 22kW on-board AC charger, is compatible with DC fast charging up to 150kW and eligible to operate in London's Ultra Low Emission Zone and Congestion Charge Zone without incurring charges.
Renault Trucks engineers used Warburtons operational data for a number of Enfield-based routes, mapping this against a real-world, real-time traffic database derived from over one million miles of vehicle telematics data and calculated that the vehicle would operate for a ten-year period without using more than 250 MW of energy.
"As our first 16-tonne electric truck goes on the road, we mark another important milestone in our sustainable fleet management," Steven Gray, Warburtons national transport manager, said. "By using the Renault Trucks D Z.E. we offer our customers the same quality of service but with zero tailpipe emissions and quieter operation in urban environments."
Carlos Rodrigues, managing director, Renault Trucks UK & Ireland, added: "The Renault Trucks D Z.E. answers today's pressing need to improve air quality and reduce noise pollution in our cities. We are delighted that Warburtons has selected the D Z.E. to deliver even more sustainably for its customers, and that this first vehicle will confidently provide this service for the next ten years."