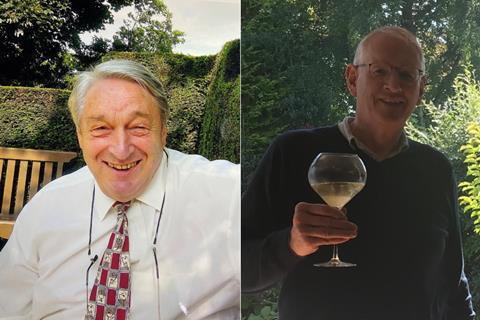 Fife bakery Fisher & Donaldson is in mourning after two generations of its founding family died on the same day.
The bakery's retired director James Grant Milne, known as Grant, passed away in his sleep on 7 August at the age of 89. His son and fourth-generation baker Sandy Milne passed away 'suddenly but peacefully' aged 64 on the same day at Ninewells Hospital.
Grant first got involved in the family business in 1942, aged 10, when he started as a messenger boy.
Later, he was awarded a scholarship from the Scottish Association of Master Bakers to attend at Glasgow's Royal Technical College to study Baking and Confectionary Food Science. This was a full-time course but Grant returned to Cupar to help in the bakery every weekend and, at the end of his course in 1950, his father sent him to work for James McDougall Bakers Ltd in Dundee, where he perfected his confectionery skills and became a master in meringues.
In 1949, Grant returned to manage the St Andrews branch of Fisher & Donaldson and worked hard to establish himself as a high-quality craft baker. In 1956 he purchased the same branch eventually bought the remainder of the business when his father retired.
He introduced many new products over his long career, including the company's best-selling bread, the 'Dr Floyd' loaf, named after his father-in-law.
Grant retired in 1991 having entrusted the business to his sons Sandy and Eric.
In his own time, Grant pursued his love of flying, frequently travelling with his wife Audrey to Europe to bring back bakery ideas and new skills from his contacts on the continent.
As the fourth generation of Fisher & Donaldson management, Sandy and his brother Eric worked for the business over a 45-year period. His passion for, and dedication to, baking was displayed by his perfection of the treasured fudge doughnut, and his hard-earned reputation as the fastest oatcake pinner around. He was even appointed the Royal Warrant in 2011.
The bakery said Sandy, who retired at the end of last year, will be remembered as an "inspirational, charming and friendly boss who loved connecting with the many colleagues, business partners and customers of Fisher & Donaldson".
Away from work, Sandy was described as a husband, father, father-in-law, brother, grandpa, son and a much-loved uncle to his nieces, nephews and their children. He is survived by his wife Jane, children Jamie, Katie and Stuart, grandchildren Trevor, Elliot, Olive and Edie, and his four brothers, Eric, Ian, Raymond and Stewart.
The Milne family would like to thank the many people sending their love and thoughts at this difficult time. A small, private memorial service is planned later this week.
Alasdair Smith, chief executive of Scottish Bakers, paid tribute to Grant and Sandy.
"All of us at Scottish Bakers were saddened to hear of the passing of Grant and Sandy Milne, and our sympathies are with all of the family at such a difficult time," Smith said.
"I never met Grant, but I did meet and talk with Sandy on a number of occasions including once welcoming him to Bakers House to peruse our archive of yearbooks which he took a great interest in. I remember him as an affable and welcoming man with genuine warmth who I know will be much missed by many in the trade."