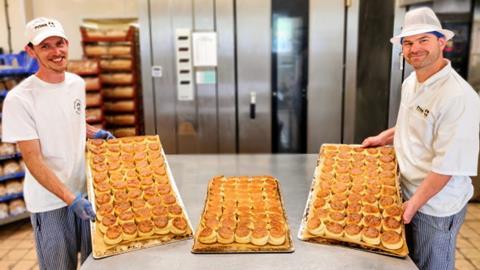 An apprentice at Cornish business Prima Bakeries has become the first student in the UK to complete a new bakery qualification.
The Level 2 Apprenticeship in Bakery is devised by specialist awarding body FDQ and supported by Truro & Penwith College in Cornwall. It incorporates a Diploma in Craft Baking, covering bread, cake and pastry production.
Introduced in 2018, the college recognised an upsurge of interest in all things baking related, thanks to television programmes such as the Great British Bake Off, said the firm.
Apprentice Jason Bennellick joined Prima Bakeries as a general production assistant two years ago.
"When Jason first joined us, it quickly became apparent that he was a keen and capable young man, with a strong desire to learn a proper trade, and he expressed interest in becoming a trainee baker," said Mark Norton, managing director at Prima Bakeries.
"He has received exceptional training on the job under the auspices of Prima's general bakery manger, Ross Buist, and has been supported by Truro & Penwith College where the course was delivered by David Williams, bakery lecturer and ESF programme developer, and a craft baker with 40 years' experience."
The FDQ was keen to provide a course that would appeal specifically to the industry's needs, which led to the creation of the only course of its kind across the south west provided through a college, it added.
"Baking lies at the heart of Cornwall's amazing food and drink scene. It's therefore vital that we nurture the next generation of master bakers and encourage more youngsters to consider it as a fulfilling and enjoyable profession," added Norton.
"The new FDQ course is exemplary and, on the back of Jason's success, we are keen to take on a new apprentice at Prima Bakeries to help continue to build the future of craft baking in Cornwall."