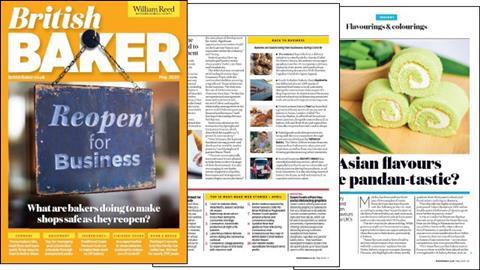 The digital version of the May edition of British Baker magazine is available to readers now.
In the face of the Covid-19 outbreak, we are working to ensure our readers have the information they need, when they need it. To help achieve this, we are currently making the digital edition of the magazine available to all readers by clicking here.
Among the topics covered in this month's mag are:
Reopen for business: How Britain's retail bakery chains are trading again after taking steps to protect staff and customers.
Flavourings & Colourings: With traditional Asian flavours such as pandan, cherry blossom and red bean paste now on-trend, how can these be best used in the UK's bakery scene?
Dough Handling: Suppliers give tips on ways bakers can handle unexpected production peaks in manufacturing, such as the one sparked by the Covid-19 panic-buying.
Bake-off & In-store Bakery: As Tesco this month reduces its dependence on scratch baking, what does the future hold for in-store bakeries?
In addition to the magazine, we have a host of other ways of ensuring you keep up to date with the latest developments in the industry:
We will be sharing the advice and information as it becomes available on our website britishbaker.co.uk
Three times a week, we will email out the latest news and insight via our free newsletter – if you are not already a subscriber sign up now using this link
Information will be shared on our social media channels, including Facebook and LinkedIn – if you don't already follow our LinkedIn page please do so using this link

.